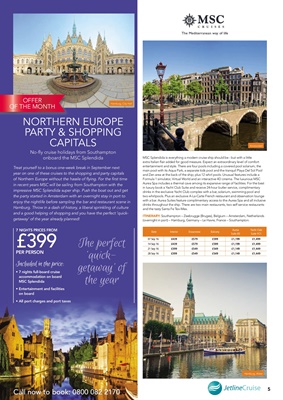 NORTHERN EUROPE
PARTY & SHOPPING
CAPITALS
No-fly cruise holidays from Southampton
onboard the MSC Splendida
Treat yourself to a bonus one-week break in September next
year on one of these cruises to the shopping and party capitals
of Northern Europe without the hassle of flying. For the first time
in recent years MSC will be sailing from Southampton with the
impressive MSC Splendida super ship. Push the boat out and get
the party started in Amsterdam with an overnight stay in port to
enjoy the nightlife before sampling the bar and restaurant scene in
Hamburg. Throw in a dash of history, a liberal sprinkling of culture
and a good helping of shopping and you have the perfect 'quickgetaway' of the year already
planned!
5
Hamburg, City Hall
Included in the price:
• 7 nights full-board cruise
accommodation on board
MSC Splendida
• Entertainment and facilities
on board
• All port charges and port taxes
7 NIGHTS PRICES FROM
£399PER PERSON
ITINERARY: Southampton - Zeebrugge (Bruges), Belgium - Amsterdam, Netherlands
(overnight in port) - Hamburg, Germany - Le Havre, France - Southampton.
Date Interior Oceanview Balcony
Aurea
Suite B3
Yacht Club
Suite YC1
07 Sep 16 £439 £579 £599 £1,199 £1,499
14 Sep 16 £439 £579 £599 £1,199 £1,499
21 Sep 16 £399 £549 £549 £1,149 £1,449
28 Sep 16 £399 £549 £549 £1,149 £1,449
The perfect
'quickgetaway' of
the year
Amsterdam
OFFER
OF THE MONTH
Call now to book: 0800 082 2170
Hamburg, Alster
MSC Splendida is everything a modern cruise ship should be - but with a little
extra Italian flair added for good measure. Expect an extraordinary level of comfort
entertainment and style. There are four pools including a covered pool solarium, the
main pool with its Aqua Park, a separate kids pool and the tranquil Playa Del Sol Pool
and Zen area at the back of the ship; plus 12 whirl pools. Unusual features include a
Formula 1 simulator, Virtual World and an interactive 4D cinema. The luxurious MSC
Aurea Spa includes a thermal cave among its expansive range of facilities. For the best
in luxury book a Yacht Club Suite and receive 24-hour butler service, complimentary
drinks in the exclusive Yacht Club complex with a bar, solarium, swimming pool and
two whirlpools. Plus an exclusive A-La-Carte French restaurant and observation lounge
with a bar. Aurea Suites feature complimentary access to the Aurea Spa and all inclusive
drinks throughout the ship. There are two main restaurants, two self service restaurants
and the tasty Santa Fe Tex-Mex.