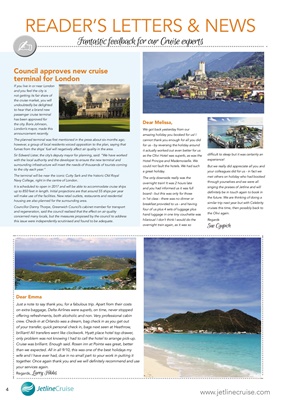 44 READER'S LETTERS & NEWS
Fantastic feedback for our Cruise experts
Dear Melissa,
We got back yesterday from our
amazing holiday you booked for us! I
cannot thank you enough for all you did
for us - by reversing the holiday around
it actually worked out even better for us
as the Olivi Hotel was superb, as was the
Hotel Principe and Mademoiselle. We
could not fault the hotels. We had such
a great holiday.
The only downside really was the
overnight train! It was 2 hours late
and you had informed us it was full
board - but this was only for those
in 1st class - there was no dinner or
breakfast provided to us - and having
four of us plus 4 sets of luggage plus
hand luggage in one tiny couchette was
hilarious! I don't think I would do the
overnight train again, as it was so
difficult to sleep but it was certainly an
experience!
But we really did appreciate all you and
your colleagues did for us - in fact we
met others on holiday who had booked
through yourselves and we were all
singing the praises of Jetline and will
definitely be in touch again to book in
the future. We are thinking of doing a
similar trip next year but with Celebrity
cruises this time, then possibly back to
the Olivi again.
Regards
Sue Czupich
Council approves new cruise
terminal for London
If you live in or near London
and you feel the city is
not getting its fair share of
the cruise market, you will
undoubtedly be delighted
to hear that a brand new
passenger cruise terminal
has been approved for
the city. Boris Johnson,
London's mayor, made this
announcement recently.
The planned terminal was first mentioned in the press about six months ago;
however, a group of local residents voiced opposition to the plan, saying that
fumes from the ships' fuel will negatively affect air quality in the area.
Sir Edward Lister, the city's deputy mayor for planning, said: "We have worked
with the local authority and the developer to ensure the new terminal and
surrounding infrastructure will meet the needs of thousands of tourists coming
to the city each year."
The terminal will be near the iconic Cutty Sark and the historic Old Royal
Navy College, right in the centre of London.
It is scheduled to open in 2017 and will be able to accommodate cruise ships
up to 850 feet in length. Initial projections are that around 55 ships per year
will make use of the facilities. New retail outlets, restaurants and residential
housing are also planned for the surrounding area.
Councillor Danny Thorpe, Greenwich Council's cabinet member for transport
and regeneration, said the council realised that the effect on air quality
concerned many locals, but the measures proposed by the council to address
this issue were independently scrutinised and found to be adequate.
Dear Emma
Just a note to say thank you, for a fabulous trip. Apart from their costs
on extra baggage, Delta Airlines were superb, on time, never stopped
offering refreshments, both alcoholic and non. Very professional cabin
crew. Check-in at Orlando was a dream, bag check in as you get out
of your transfer, quick personal check in, bags next seen at Heathrow,
brilliant! All transfers went like clockwork. Hyatt place hotel top drawer,
only problem was not knowing I had to call the hotel to arrange pick-up.
Cruise was brilliant. Enough said. Rosen inn at Pointe was great, better
than we expected. All in all 9/10, this was one of the best holidays my
wife and I have ever had, due in no small part to your work in putting it
together. Once again thank you and we will definitely recommend and use
your services again.
Regards, Larry Hibbs