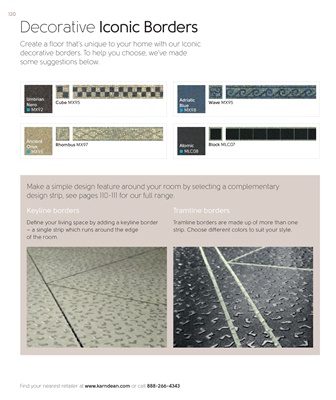 120
Decorative Iconic Borders
Create a floor that's unique to your home with our Iconic
decorative borders. To help you choose, we've made
some suggestions below.
Umbrian Adriatic
Nero Cube MX95 Wave MX95
Blue
MX92 MX98
Ancient
Onyx Rhombus MX97 Atomic Block MLC07
MX95 MLC08
Make a simple design feature around your room by selecting a complementary
design strip, see pages 110-111 for our full range.
Keyline borders Tramline borders
Define your living space by adding a keyline border Tramline borders are made up of more than one
– a single strip which runs around the edge strip. Choose different colors to suit your style.
of the room.
Find your nearest retailer at www.karndean.com or call 888-266-4343