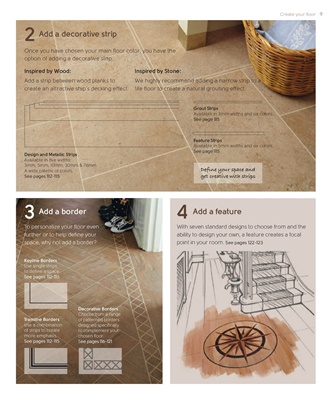 Create your floor 9
2 Add a decorative strip
Once you have chosen your main floor color, you have the
option of adding a decorative strip...
Inspired by Wood: Inspired by Stone:
Add a strip between wood planks to We highly recommend adding a narrow strip to a
create an attractive ship's decking effect. tile floor to create a natural grouting effect.
Grout Strips
Available in 3mm widths and six colors.
See page 115
Feature Strips
Available in 5mm widths and six colors.
See page 115
Design and Metallic Strips
Available in five widths:
3mm, 5mm, 10mm, 30mm & 76mm
A wide palette of colors. Define your space and
See pages 112-115 get creative with strips
3 Add a border
To personalize your floor even
4 Add a feature
With seven standard designs to choose from and the
further or to help define your ability to design your own, a feature creates a focal
space, why not add a border? point in your room. See pages 122-123
Keyline Borders
Use single strips
to define a space.
See pages 112-115
Decorative Borders
Choose from a range
Tramline Borders of patterned borders
Use a combination designed specifically
of strips to create to complement your
more emphasis. chosen floor.
See pages 112-115 See pages 116-121