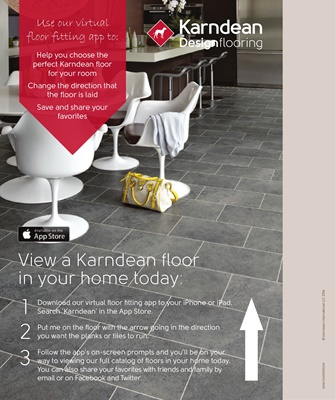 Use our virtual
floor fitting app to:
Help you choose the
perfect Karndean floor
for your room
Change the direction that
the floor is laid
Save and share your
favorites
View a Karndean floor
in your home today:
© Karndean International LLC 2014.
1 Download our virtual floor fitting app to your iPhone or iPad.
Search 'Karndean' in the App Store.
2 Put me on the floor with the arrow going in the direction
you want the planks or tiles to run.
3 Follow the app's on-screen prompts and you'll be on your
way to viewing our full catalog of floors in your home today.
2014v1 | KD0902USA
You can also share your favorites with friends and family by
email or on Facebook and Twitter.