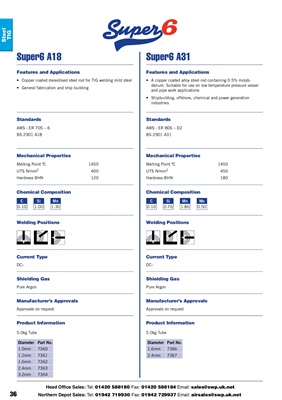 Welding Positions Welding Positions
Head Office Sales: Tel: 01420 588180 Fax: 01420 588184 Email: sales@swp.uk.netttp://swp.uk.net" target="_blank" title="Visit swp.uk.net">swp.uk.netairsales@swp.uk.netpot Sales: Tel: 01942 719930 Fax: 01942 729937 Email: airsales@swp.uk.net
36
Standards
Mechanical Properties
C
0.10
Si
1.00
Mn
1.30
AWS : ER 70S - 6
BS 2901 A18
Melting Point ºC 1450
UTS N/mm2 400
Hardness BHN 120
Features and Applications
• Copper coated deoxidised steel rod for TIG welding mild steel
• General fabrication and ship building
Current Type
DC-
Shielding Gas
Pure Argon
Chemical Composition
Product Information
5.0kg Tube
Approvals on request
Manufacturer's Approvals
Standards
Mechanical Properties
Si
0.70
Mn
1.80
Mo
0.50
C
0.10
AWS : ER 80S - D2
BS 2901 A31
Melting Point ºC 1450
UTS N/mm2 450
Hardness BHN 180
Features and Applications
• A copper coated alloy steel rod containing 0.5% molyb denum.
Suitable for use on low temperature pressure vessel
and pipe work applications
• Shipbuilding, offshore, chemical and power generation
industries
Current Type
DC-
Shielding Gas
Pure Argon
Chemical Composition
Product Information
5.0kg Tube
Diameter Part No.
1.6mm 7366
2.4mm 7367
Approvals on request
Manufacturer's Approvals
Super6 A18 Super6 A31
Diameter Part No.
1.0mm 7360
1.2mm 7361
1.6mm 7362
2.4mm 7363
3.2mm 7364
Steel
TIG