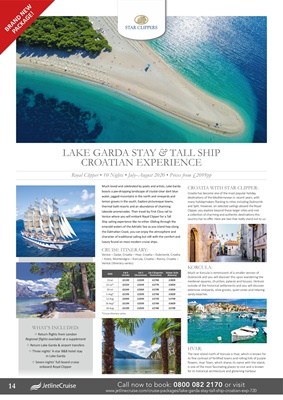 LAKE GARDA STAY & TALL SHIP
CROATIAN EXPERIENCE
Royal Clipper • 10 Nights • July-August 2020 • Prices from £2099pp
WHAT'S INCLUDED:
✥ Return flights from London
Regional flights available at a supplement
✥ Return Lake Garda & airport transfers
✥ Three nights' 4-star B&B hotel stay
in Lake Garda
✥ Seven nights' full-board cruise
onboard Royal Clipper
Much loved and celebrated by poets and artists, Lake Garda
boasts a jaw-dropping landscape of crystal-clear dark blue
water, jagged mountains in the north and vineyards and
lemon groves in the south. Explore picturesque towns,
thermal bath resorts and an abundance of charming
lakeside promenades. Then travel by First Class rail to
Venice where you will embark Royal Clipper for a Tall
Ship sailing experience like no other. Gliding through the
emerald waters of the Adriatic Sea as you island hop along
the Dalmatian Coast, you can enjoy the atmosphere and
character of traditional sailing but still with the comfort and
luxury found on most modern cruise ships.
CROATIA WITH STAR CLIPPER:
Croatia has become one of the most popular holiday
destinations of the Mediterranean in recent years, with
many holidaymakers flocking to cities including Dubrovnik
and Split. However, on selected sailings aboard the Royal
Clipper, you explore beyond these larger cities and visit
a collection of charming and authentic destinations this
country has to offer. Here are two that really stand out to us:
KORCULA:
Much or Korcula is reminiscent of a smaller version of
Dubrovnik and you will discover this upon wandering the
medieval squares, churches, palaces and houses. Venture
outside of the historical settlements and you will discover
extensive vineyards, olive groves, quiet coves and relaxing
sandy beaches.
HVAR:
The next island north of Korcula is Hvar, which is known for
its fine contrast of fortified towns and rolling hills of purple
flowers. Hvar Town, which shares its name with the island,
is one of the most fascinating places to visit and is known
for its historical architecture and glistening harbour.
CRUISE ITINERARY:
Venice - Zadar, Croatia - Hvar, Croatia - Dubrovnik, Croatia
- Kotor, Montenegro - Korcula, Croatia - Rovinj, Croatia -
Venice (itinerary varies)
2020 Cat 6
(Inside)
Cat 5
(Oceanview) Cat 2 (Superior
Oceanview)
Deluxe Suite
(Balcony)
15 Jul £2199 £2339 £2769 £3829
22 Jul* £2229 £2339 £2779 £3829
29 Jul £2249 £2369 £2799 £3859
5 Aug* £2199 £2339 £2769 £3829
12 Aug £2099 £2299 £2759 £3799
19 Aug* £2199 £2339 £2769 £3829
26 Aug £2199 £2329 £2769 £3799
*Cruise itinerary varies.
BRAND NEW
PACKAGE!
14 Call now to book: 0800 082 2170 or visit
www.jetlinecruise.com/cruise-packages/lake-garda-stay-tall-ship-croatian-exp-720