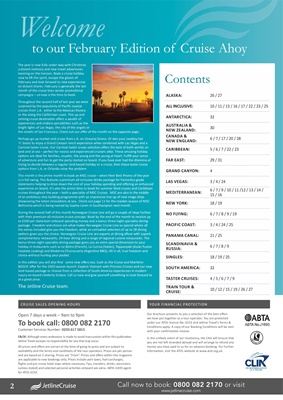 Open 7 days a week - 9am to 9pm
To book call: 0800 082 2170
Customer Services Number: 0203 617 5815
E&OE: Although every endeavour is made to avoid inaccuracies within this publication
Jetline Travel accepts no responsibility for any that may occur.
All prices and offers are correct at the time of going to press and are subject to
availability and the terms and conditions of the tour operators. Prices are per person
and are based on 2 sharing. Prices are "From". Prices and offers within this magazine
are applicable to new bookings only. Prices include port taxes, fuel surcharges,
flights and pre cruise hotel stays where necessary. Tips, transfers, drinks, excursions
(unless stated) and selected personal activities onboard are extra. ABTA J1693 agent
for ATOL 6153.
CRUISE SALES OPENING HOURS
Our brochure presents to you a selection of the best offers
we have put together as a tour operator. You are protected
under our ATOL licence No: 6153 and Jetline Travel's Terms &
Conditions apply. A copy of our Booking Conditions will be sent
with your confirmation invoice.
In the unlikely event of our insolvency, the CAA will ensure that
you are not left stranded abroad and will arrange to refund any
money you have paid to us for an advance booking. For further
information, visit the ATOL website at www.atol.org.uk.
YOUR FINANCIAL PROTECTION
ALASKA: 26 / 27
ALL INCLUSIVE: 10 / 11 / 13 / 16 / 17 / 22 / 23 / 25
ANTARCTICA: 32
AUSTRALIA &
NEW ZEALAND:
30
CANADA &
NEW ENGLAND:
6 / 7 / 17 / 20 / 28
CARIBBEAN: 5 / 6 / 7 / 22 / 23
FAR EAST: 29 / 31
GRAND CANYON: 4
LAS VEGAS: 3 / 4 / 24
MEDITERRANEAN:
6 / 7 / 9 / 10 / 11 /12 / 13 / 14 /
15 / 16
NEW YORK: 18 / 19
NO FLYING: 6 / 7 / 8 / 9 / 19
PACIFIC COAST: 3 / 4 / 24 / 25
PANAMA CANAL: 21 / 25
SCANDINAVIA &
RUSSIA:
6 / 7 / 8 / 9
SINGLES: 18 / 19 / 25
SOUTH AMERICA: 32
TASTER CRUISES: 4 / 5 / 6 / 7 / 9
TRAIN TOUR &
CRUISE:
10 / 12 / 15 / 19 / 26 / 27
Contents
The year is now fully under way with Christmas
a distant memory and new travel adventures
looming on the horizon. Book a cruise holiday
now to lift the spirit, escape the gloom of
February and look forward to new experiences
on distant shores. February is generally the last
month of the cruise lines winter promotional
campaigns - so now is the time to book.
Throughout the second half of last year we were
surprised by the popularity of Pacific coastal
cruises from L.A. either to the Mexican Riviera
or the along the Californian coast. This up and
coming cruise destination offers a wealth of
experiences and endless possibilities such as the
bright lights of Las Vegas, the city of the angels or
the streets of San Francisco. Check out our offer of the month on the opposite page.
Perhaps go up market and cruise from L.A. on Oceania Sirena. Or don your cowboy hat
'n' boots to enjoy a Grand Canyon ranch experience when combined with Las Vegas and a
Carnival taster cruise. Our Carnival taster cruise selection offers the best of both worlds on
land and at sea - perfect for novice and experienced cruisers alike. These amazing holiday
options are ideal for families, couples, the young and the young at heart. Fulfill your sense
of adventure and fun to get the party started on board. If you have ever had the dilemma of
trying to decide between a regular land-based holiday or a cruise, then these taster cruise
options from L.A. or Orlando solve the problem.
This month is the prime month to book an MSC cruise - when their Best Promo of the year
is in full swing. This features a premium all-inclusive drinks package for Fantastica grade
staterooms helping to drive down the cost of your holiday spending and offering an enhanced
experience on board. It's also the prime time to book for summer Med cruises and Caribbean
cruises throughout the year - both a speciality of MSC Cruises. MSC are also in the middle
of an ambitious ship building programme with an impressive line-up of new mega-ships
showcasing the latest innovations at sea. Check out page 11 for the maiden season of MSC
Bellissima which is being named by Sophia Loren in Southampton next month.
During the second half of this month Norwegian Cruise Line will go a couple of steps further
with their premium all-inclusive cruise concept. Book by the end of the month to receive up
to $500 per stateroom onboard spending money and a bonus three-night speciality dining
package. Freedom and choice are what makes Norwegian Cruise Line so special where all
the extras included give you the freedom, while an unrivalled selection of up to 28 dining
options gives you the choice. Norwegian Cruise Line are experts at dining afloat with superb
complimentary restaurants, 24-hour dining and a range of regional cuisine restaurants. The
bonus three-night speciality dining package gives you an extra special dimension to your
holiday in restaurants such as Le Bistro (French), La Cucina (Italian), Teppanyaki (Asian Fusion
hotplate cooking) and Moderno Churrascaria (Argentine BBQ). All in all, true freedom and
choice without hurting your pocket.
In this edition you will also find some new offers too. Such as the Cruise and Maritime
BOGOF offer for the 2020 season launch. Explore Vietnam with Princess Cruises and our new
land-based package or choose from a collection of South America experiences in modern
luxury on-board Celebrity Eclipse. Call us now and give yourself something to look forward to
at a great price.
The Jetline Cruise team.
to our February Edition of Cruise Ahoy
Welcome
2 Call now to book: 0800 082 2170 or visit