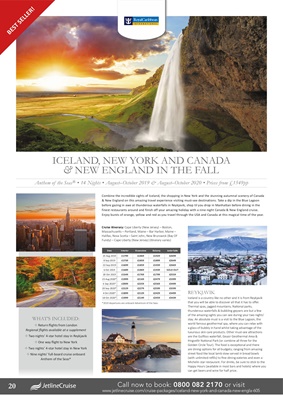 Combine the incredible sights of Iceland, the shopping in New York and the stunning autumnal scenery of Canada
& New England on this amazing travel experience visiting must-see destinations. Take a dip in the Blue Lagoon
before gazing in awe at thunderous waterfalls in Reykjavik, shop til you drop in Manhattan before dining in the
finest restaurants around and finish off your amazing holiday with a nine night Canada & New England cruise.
Enjoy bursts of orange, yellow and red as you travel through the USA and Canada at this magical time of the year.
ICELAND, NEW YORK AND CANADA
& NEW ENGLAND IN THE FALL
Anthem of the Seas® • 14 Nights • August-October 2019 & August-October 2020 • Prices from £1549pp
WHAT'S INCLUDED:
✥ Return flights from London
Regional flights available at a supplement
✥ Two nights' 4-star hotel stay in Reykjavik
✥ One way flight to New York
✥ Two nights' 4-star hotel stay in New York
✥ Nine nights' full-board cruise onboard
Anthem of the Seas®
REYKJAVIK
Iceland is a country like no other and it is from Reykjavik
that you will be able to discover all that it has to offer.
Thermal spas, jagged mountains, National parks,
thunderous waterfalls & bubbling geysers are but a few
of the amazing sights you can see during your two nights'
stay. An absolute must is a visit to the Blue Lagoon, the
world famous geothermal spa, where you can relax with
a glass of bubbly in hand whilst taking advantage of the
luxurious skin care products. Other must-see attractions
are the Gullfoss waterfall, Geysir Geothermal Area &
Þingvellir National Park (or combine all three for the
Golden Circle Tour). The food is exceptional and there
are dining options for all budgets; ranging from amazing
street food like local lamb stew served in bread bowls
(with unlimited refills) to fine-dining eateries and even a
Michelin star restaurant. For drinks, be sure to stick to the
Happy Hours (available in most bars and hotels) where you
can get beers and wine for half price.
Date Interior Oceanview Balcony Junior Suite
25 Aug 2019 £1799 £1869 £1929 £2699
8 Sep 2019 £1739 £1859 £1899 £2649
22 Sep 2019 £1699 £1859 £1939 £2669
6 Oct 2019 £1689 £1869 £1939 SOLD OUT
20 Oct 2019 £1549 £1769 £1799 £2559
23 Aug 2020* £1999 £2169 £2479 £3399
6 Sep 2020* £2099 £2259 £2569 £3499
20 Sep 2020* £2129 £2279 £2599 £3599
4 Oct 2020* £1899 £2129 £2429 £3499
18 Oct 2020* £1999 £2149 £2459 £3439
*2020 departures are onboard Adventure of the Seas
Cruise itinerary: Cape Liberty (New Jersey) - Boston,
Massachusetts - Portland, Maine - Bar Harbor, Maine -
Halifax, Nova Scotia - Saint John, New Brunswick (Bay Of
Fundy) - Cape Liberty (New Jersey) (itinerary varies)
BEST SELLER!
20 Call now to book: 0800 082 2170 or visit
www.jetlinecruise.com/cruise-packages/iceland-new-york-and-canada-new-engla-605