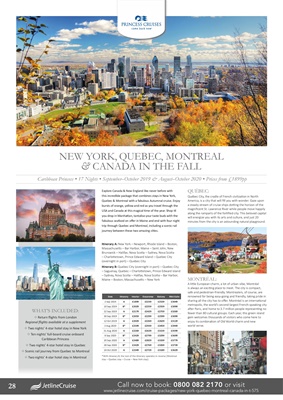 NEW YORK, QUEBEC, MONTREAL
& CANADA IN THE FALL
Caribbean Princess • 17 Nights • September-October 2019 & August-October 2020 • Prices from £1899pp
WHAT'S INCLUDED:
✥ Return flights from London
Regional flights available at a supplement
✥ Two nights' 4-star hotel stay in New York
✥ Ten nights' full-board cruise onboard
Caribbean Princess
✥ Two nights' 4-star hotel stay in Quebec
✥ Scenic rail journey from Quebec to Montreal
✥ Two nights' 4-star hotel stay in Montreal
Explore Canada & New England like never before with
this incredible package that combines stays in New York,
Quebec & Montreal with a fabulous Autumnal cruise. Enjoy
bursts of orange, yellow and red as you travel through the
USA and Canada at this magical time of the year. Shop til
you drop in Manhattan, tantalise your taste buds with the
fabulous seafood on offer in Maine and end with four night
trip through Quebec and Montreal, including a scenic rail
journey between these two amazing cities.
QUÉBEC:
Québec City, the cradle of French civilization in North
America, is a city that will fill you with wonder. Gaze upon
a steady stream of cruise ships dotting the horizon of the
magnificent St. Lawrence River while people move happily
along the ramparts of the fortified city. This beloved capital
will energize you with its arts and culture, and just 20
minutes from the city is an astounding natural playground.
Date Itinerary Interior Oceanview Balcony Mini-Suite
2 Sep 2019 A £1899 £2239 £2539 £3049
10 Sep 2019 B* £2029 £2259 £2559 £3099
22 Sep 2019 A £2179 £2429 £2759 £3269
30 Sep 2019 B* £2059 £2299 £2599 £3099
12 Oct 2019 A £2029 £2269 £2629 £3129
3 Aug 2020 B* £2599 £2939 £3459 £3949
31 Aug 2020 A £2269 £2639 £3159 £3599
8 Sep 2020 B* £2429 £2799 £3299 £3699
20 Sep 2020 A £2489 £2829 £3339 £3779
28 Sep 2020 B* £2429 £2769 £3269 £3739
10 Oct 2020 A £2349 £2729 £3189 £3629
Itinerary A: New York - Newport, Rhode Island - Boston,
Massachusetts - Bar Harbor, Maine - Saint John, New
Brunswick - Halifax, Nova Scotia - Sydney, Nova Scotia
- Charlottetown, Prince Edward Island - Quebec City
(overnight in port) - Quebec City
Itinerary B: Quebec City (overnight in port) - Quebec City
- Saguenay, Quebec - Charlottetown, Prince Edward Island
- Sydney, Nova Scotia - Halifax, Nova Scotia - Bar Harbor,
Maine - Boston, Massachusetts - New York MONTRÉAL:
A little European charm, a lot of urban vibe, Montréal
is always an exciting place to meet. The city is compact,
safe and pedestrian-friendly. Montrealers, of course, are
renowned for being easy-going and friendly, taking pride in
sharing all the city has to offer. Montréal is an international
metropolis, the world's second-largest French-speaking city
after Paris, and home to 3.7 million people representing no
fewer than 80 cultural groups. Each year, this green island
gem welcomes thousands of visitors who come here to
enjoy its combination of Old World charm and new
world verve.
*With itinerary B, the rest of the itinerary operates in reverse (Montreal
stay - Quebec stay - Cruise - New York stay).
28 Call now to book: 0800 082 2170 or visit
www.jetlinecruise.com/cruise-packages/new-york-quebec-montreal-canada-in-t-575