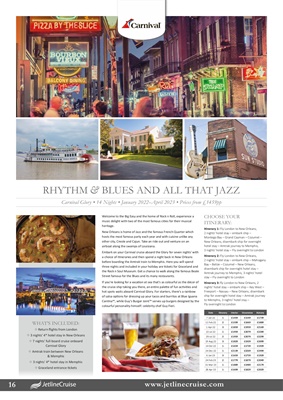 16
WHAT'S INCLUDED:
✥ Return flights from London
✥ 3 nights' 4* hotel stay in New Orleans
✥ 7 nights' full-board cruise onboard
Carnival Glory
✥ Amtrak train between New Orleans
& Memphis
✥ 3 nights' 4* hotel stay in Memphis
✥ Graceland entrance tickets
Welcome to the Big Easy and the home of Rock n Roll, experience a
music delight with two of the most famous cities for their musical
heritage.
New Orleans is home of Jazz and the famous French Quarter which
hosts the most famous party each year and with cuisine unlike any
other city, Creole and Cajun. Take an ride out and venture on an
airboat along the swamps of Louisiana.
Embark on your Carnival cruise aboard the Glory for seven nights' with
a choice of itineraries and then spend a night back in New Orleans
before boarding the Amtrak train to Memphis. Here you will spend
three nights and included in your holiday are tickets for Graceland and
the Rock n Soul Museum. Get a chance to walk along the famous Beale
Street famous for the Blues and its many restaurants.
If you're looking for a vacation at sea that's as colourful as the décor of
the cruise ship taking you there, an entire palette of fun activities and
hot spots waits aboard Carnival Glory. For starters, there's a rainbow
of salsa options for dressing up your tacos and burritos at Blue Iguana
Cantina™, while Guy's Burger Joint™ serves up burgers designed by the
colourful personality himself: celebrity chef Guy Fieri.
RHYTHM & BLUES AND ALL THAT JAZZ
Carnival Glory • 14 Nights • January 2022-April 2023 • Prices from £1459pp
Date Itinerary Interior Oceanview Balcony
7 Jan 22 1 £1459 £1549 £1739
11 Feb 22 2 £1599 £1669 £1889
1 Apr 22 3 £1859 £1959 £2169
22 Jul 22 1 £1959 £2079 £2289
29 Jul 22 2 £1959 £2079 £2299
19 Aug 22 3 £1829 £1929 £2099
14 Oct 22 1 £1659 £1739 £1929
24 Dec 22 1 £2139 £2269 £2499
6 Jan 23 3 £1659 £1759 £1929
24 Feb 23 2 £1779 £1879 £2049
31 Mar 23 1 £1889 £1989 £2179
28 Apr 23 1 £1699 £1829 £2029
CHOOSE YOUR
ITINERARY:
Itinerary 1: Fly London to New Orleans,
2 nights' hotel stay - embark ship -
Montego Bay - Grand Cayman - Cozumel -
New Orleans, disembark ship for overnight
hotel stay - Amtrak journey to Memphis,
3 nights' hotel stay - Fly overnight to London
Itinerary 2: Fly London to New Orleans,
2 nights' hotel stay - embark ship - Mahogany
Bay - Belize - Cozumel - New Orleans,
disembark ship for overnight hotel stay -
Amtrak journey to Memphis, 3 nights' hotel
stay - Fly overnight to London
Itinerary 3: fly London to New Orleans, 2
nights' hotel stay - embark ship - Key West -
Freeport - Nassau - New Orleans, disembark
ship for overnight hotel stay - Amtrak journey
to Memphis, 3 nights' hotel stay -
Fly overnight to London