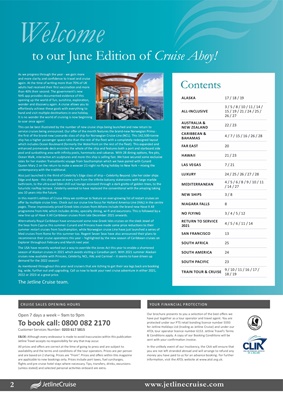 2 Open 7 days a week - 9am to 9pm
To book call: 0800 082 2170
Customer Services Number: 0203 617 5815
E&OE: Although every endeavour is made to avoid inaccuracies within this publication
Jetline Travel accepts no responsibility for any that may occur.
All prices and offers are correct at the time of going to press and are subject to
availability and the terms and conditions of the tour operators. Prices are per person
and are based on 2 sharing. Prices are "From". Prices and offers within this magazine
are applicable to new bookings only. Prices include port taxes, fuel surcharges,
flights and pre cruise hotel stays where necessary. Tips, transfers, drinks, excursions
(unless stated) and selected personal activities onboard are extra.
CRUISE SALES OPENING HOURS
Our brochure presents to you a selection of the best offers we
have put together as a tour operator and travel agent. You are
protected under our PTS retail bonding licence number 5593
for Jetline Holidays Ltd (trading as Jetline Cruise) and under our
ATOL tour operator licence number 6153. Jetline Travel's Terms
& Conditions apply. A copy of our Booking Conditions will be
sent with your confirmation invoice.
In the unlikely event of our insolvency, the CAA will ensure that
you are not left stranded abroad and will arrange to refund any
money you have paid to us for an advance booking. For further
information, visit the ATOL website at www.atol.org.uk.
YOUR FINANCIAL PROTECTION
As we progress through the year - we gain more
and more clarity and confidence to travel and cruise
again. At the time of writing more than 70% of UK
adults had received their first vaccination and more
than 40% their second. The government's new
NHS app provides documented evidence of this
opening up the world of fun, sunshine, exploration,
wonder and discovery again. A cruise allows you to
effortlessly achieve these goals with everything to
hand and visit multiple destinations in one holiday.
It is no wonder the world of cruising is now beginning
to soar once again!
This can be best illustrated by the number of new cruise ships being launched and new return to
service cruises being announced. Our offer of the month features the brand-new Norwegian Prima -
the first of the brand-new Leonardo class of ship for Norwegian Cruise Line (NCL). This 142,500-tonne
ship has a higher passenger space ratio than the rest of the fleet with a completely redesigned layout
which includes Ocean Boulevard (formerly the Waterfront on the rest of the fleet). This expanded and
enhanced promenade deck encircles the whole of the ship and features both a port and starboard side
pool and sunbathing area with infinity pools, hammocks and cabanas. With 28 dining options, fire pits,
Ocean Walk, interactive art sculptures and more this ship is selling fast. We have secured some exclusive
rates for her maiden Transatlantic voyage from Southampton which we have paired with Cunard
Queen Mary 2 on the return to make a wowzer 21-night no-flying holiday to New York - mixing the
contemporary with the traditional.
Also just launched is the third of Celebrity's Edge class of ship - Celebrity Beyond. Like her sister ships
Edge and Apex - this ship wows at every turn from the infinite balcony staterooms with large marble
bathroom, to the ultra-cool Eden chill out lounge accessed through a dark grotto of golden trees, to the
futuristic rooftop terrace. Celebrity seemed to have replaced the conventional with the amazing taking
you 10 years into the future.
In this month's edition of Cruise Ahoy we continue to feature an ever-growing list of restart cruises on
offer by multiple cruise lines. Check out our cruise line focus for Holland America Line (HAL) in the centre
pages. These impressively priced Greek Isles cruises from Athens include the brand new Have It All
programme from HAL which includes drinks, specialty dining, wi-fi and excursions. This is followed by a
new line up of Have It All Caribbean cruises from late December 2021 onwards.
Alternatively Royal Caribbean have announced some new Greek Isles cruises on the sleek Jewel of
the Seas from Cyprus this summer. Cunard and Princess have made some price reductions to their
summer restart cruises from Southampton, while Norwegian cruise Line have just launched a series of
Med cruises from Rome for this summer too. Regent Seven Seas have also announced their plans to
recommence their cruise operations this year - highlighted by the new season of Caribbean cruises on
Explorer throughout February and March next year.
The USA have recently worked out a way to override the Jones Act this year to enable a shortened
season of Alaskan cruises in 2021 which avoids visiting a Canadian port. With 2021 summer Alaskan
cruises now available with Princess, Celebrity, NCL, HAL and Carnival - it seems to have driven up
demand for the 2022 season!
As mentioned throughout this year avid cruisers that are itching to get their sea legs back are booking
big, wide, further out and upgrading. Call us now to book your next cruise adventure in either 2021,
2022 or 2023 at a great price.
The Jetline Cruise team.
to our June Edition of Cruise Ahoy!
Welcome
ALASKA 17 / 18 / 19
ALL-INCLUSIVE
3 / 5 / 8 / 10 / 11 / 14 /
15 / 19 / 21 / 24 / 25 /
26 / 27
AUSTRALIA &
NEW ZEALAND
22 / 23
CARIBBEAN &
BAHAMAS
4 / 7 / 15 / 16 / 26 / 28
FAR EAST 20
HAWAII 21 / 23
LAS VEGAS 7 / 21
LUXURY 24 / 25 / 26 / 27 / 28
MEDITERRANEAN
4 / 5 / 6 / 8 / 9 / 10 / 11
/ 14 / 27
NEW SHIPS 3 / 8
NIAGARA FALLS 8
NO FLYING 3 / 4 / 5 / 12
RETURN TO SERVICE
2021
4 / 5 / 6 / 11 / 14
SAN FRANCISCO 13
SOUTH AFRICA 25
SOUTH AMERICA 24
SOUTH PACIFIC 23
TRAIN TOUR & CRUISE 9 / 10 / 11 / 16 / 17 /
18 / 19
Contents