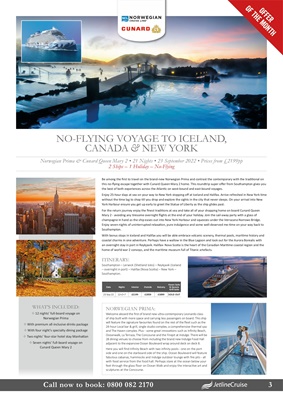 Call now to book: 0800 082 2170 3
Be among the first to travel on the brand-new Norwegian Prima and contrast the contemporary with the traditional on
this no-flying escape together with Cunard Queen Mary 2 home. This roundtrip super offer from Southampton gives you
the best of both experiences across the Atlantic on west-bound and east-bound voyages.
Enjoy 25-hour days at sea on your way to New York stopping off at Iceland and Halifax. Arrive refreshed in New York time
without the time lag to shop till you drop and explore the sights in the city that never sleeps. On your arrival into New
York Harbour ensure you get up early to greet the Statue of Liberty as the ship glides past.
For the return journey enjoy the finest traditions at sea and take all of your shopping home on board Cunard Queen
Mary 2 - avoiding any tiresome overnight flights at the end of your holiday. Join the sail-away party with a glass of
champagne in hand as the ship eases out into New York Harbour and squeezes under the Verrazano Narrows Bridge.
Enjoy seven nights of uninterrupted relaxation, pure indulgence and some well-deserved me-time on your way back to
Southampton.
With bonus stops in Iceland and Halifax you will be able embrace volcanic scenery, thermal pools, maritime history and
coastal charms in one adventure. Perhaps have a wallow in the Blue Lagoon and look out for the Aurora Borealis with
an overnight stay in port in Reykjavik. Halifax- Nova Scotia is the heart of the Canadian Maritime coastal region and the
home of world war 2 convoys, and the maritime museum full of Titanic artefacts.
NO-FLYING VOYAGE TO ICELAND,
CANADA & NEW YORK
Norwegian Prima & Cunard Queen Mary 2 • 21 Nights • 23 September 2022 • Prices from £2199pp
2 Ships - 1 Holiday - No-Flying
WHAT'S INCLUDED:
✥ 12 nights' full-board voyage on
Norwegian Prima
✥ With premium all-inclusive drinks package
✥ With four night's specialty dining package
✥ Two nights' four-star hotel stay Manhattan
✥ Seven nights' full-board voyage on
Cunard Queen Mary 2
ITINERARY:
Southampton - Lerwick (Shetland Isles) - Reykjavik (Iceland
- overnight in port) - Halifax (Nova Scotia) - New York -
Southampton.
Date Nights Interior Outside Balcony
Haven Suite
& Queens
Grill Suite
23 Sep 22 12+2+7 £2199 £2859 £3099 SOLD OUT
OFFER
OF THE MONTH
NORWEGIAN PRIMA:
Welcome aboard the first of brand new ultra-contemporary Leonardo class
of ship built with more space and carrying less passengers on board. This ship
will feature the signature favourites found on the rest of the fleet such as the
24-hour Local bar & grill, single studio complex, a comprehensive thermal spa
and The Haven complex. Plus - some great innovations such as Infinity Beach,
Oceanwalk, La Terraza, The Concourse and the Firepit at Indulge. There will be
28 dining venues to choose from including the brand new Indulge Food Hall
adjacent to the expansive Ocean Boulevard wrap around deck on deck 8.
Here you will find Infinity Beach with two infinity pools - one on the port
side and one on the starboard side of the ship. Ocean Boulevard will feature
fabulous cabanas, hammocks and Indulge outdoor lounge with fire pits - all
with food service from the food hall. Perhaps stare at the ocean below your
feet through the glass floor on Ocean Walk and enjoy the interactive art and
sculptures at the Concourse.