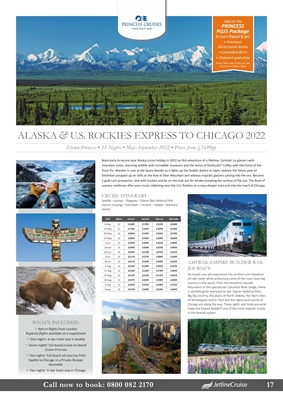 Call now to book: 0800 082 2170 17
WHAT'S INCLUDED:
✥ Return flights from London
Regional flights available at a supplement
✥ One night's 4-star hotel stay in Seattle
✥ Seven nights' full-board cruise on board
Crown Princess
✥ Two nights' full-board rail journey from
Seattle to Chicago in a Private Sleeper
Roomette
✥ Two nights' 4-star hotel stay in Chicago
Book early to secure your Alaska cruise holiday in 2022 on this adventure of a lifetime. Contrast icy glaciers with
mountain vistas, stunning wildlife with incredible museums and the home of Starbucks® Coffee with the home of the
Pizza Pie. Wonder in awe at the Space Needle as it lights up the Seattle skyline at night, explore the Totem pole of
Ketchikan propped up on stilts at the foot of Deer Mountain and witness majestic glaciers calving into the sea. Become
a gold rush prospector, sled with huskies and be on the look out for whales breaking the surface of the sea. The feast of
scenery continues after your cruise clattering over the U.S. Rockies on a cosy sleeper train and into the heart of Chicago.
ALASKA & U.S. ROCKIES EXPRESS TO CHICAGO 2022
Crown Princess • 13 Nights • May-September 2022 • Prices from £1699pp
AMTRAK EMPIRE BUILDER RAIL
JOURNEY:
On-board, you will experience the comfort and relaxation
of train travel while witnessing some of the most stunning
scenery in the world. From the beautiful Cascade
Mountains to the spectacular Columbia River Gorge, there
is something for everyone to see. Glacier National Park,
Big Sky country, the plains of North Dakota, the Twin Cities
of Minneapolis and St. Paul and the sights and sounds of
Chicago are along the way. These sights and more are what
make the Empire Builder® one of the most majestic routes
in the Amtrak system.
2022 Nights Interior Outside Balcony Mini Suite
6 May 13 £1699 £1799 £2199 £2489
13 May 13 £1769 £1859 £2299 £2589
20 May 13 £1849 £1939 £2449 £2789
27 May 13 £1859 £1939 £2399 £2839
3 Jun 13 £1939 £2049 £2559 £2899
10 Jun 13 £1989 £2099 £2599 £3049
24 Jun 13 £2049 £2199 £2769 £3159
8 Jul 13 £2119 £2279 £2889 £3289
29 Jul 13 £2219 £2349 £2899 £3299
5 Aug 13 £2189 £2299 £2859 £3199
12 Aug 13 £2189 £2299 £2799 £3099
19 Aug 13 £2129 £2249 £2759 £3059
26 Aug 13 £1879 £2029 £2499 £2839
2 Sep 13 £1829 £1919 £2449 £2739
9 Sep 13 £1749 £1869 £2259 £2499
CRUISE ITINERARY :
Seattle - Juneau - Skagway - Glacier Bay National Park
(scenic cruising) - Ketchikan - Victoria - Seattle. (Itinerary
varies)
Add on the
PRINCESS
PLUS Package
for just £30pppd & get:
• Premium
All-inclusive drinks
• Unlimited Wi-Fi
• Onboard gratuities
Worth More than £70pp per day
Terms & Conditions apply