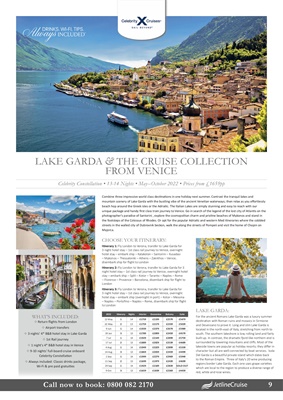 Call now to book: 0800 082 2170 9
LAKE GARDA & THE CRUISE COLLECTION
FROM VENICE
Celebrity Constellation • 13-14 Nights • May-October 2022 • Prices from £1659pp
WHAT'S INCLUDED:
✥ Return flights from London
✥ Airport transfers
✥ 3 nights' 4* B&B hotel stay in Lake Garda
✥ 1st Rail journey
✥ 1 night's 4* B&B hotel stay in Venice
✥ 9-10 nights' full-board cruise onboard
Celebrity Constellation
✥ Always included: Classic drinks package,
Wi-Fi & pre paid gratuities
Combine three impressive world class destinations in one holiday next summer. Contrast the tranquil lakes and
mountain scenery of Lake Garda with the bustling vibe of the ancient Venetian waterways; then relax as you effortlessly
beach hop around the Greek isles or the Adriatic. The Italian Lakes are simply stunning and easy to reach with our
unique package and handy first class train journey to Venice. Go in search of the legend of the lost city of Atlantis on the
photographer's paradise of Santorini , explore the cosmopolitan charm and pristine beaches of Mykonos and stand in
the footsteps of the Colossus of Rhodes. Or opt for the popular Adriatic and western Med itineraries where the cobbled
streets in the walled city of Dubrovnik beckon, walk the along the streets of Pompeii and visit the home of Chopin on
Majorca.
LAKE GARDA:
For the ancient Romans Lake Garda was a luxury summer
destination with Roman ruins and mosaics in Sirmione
and Desenzano to prove it. Long and slim Lake Garda is
located in the north-east of Italy, stretching from north to
south. The southern lakeshore is low, rolling land and fairly
built-up. In contrast, the dramatic fjord-like northern end is
surrounded by towering mountains and cliffs. Most of the
lakeside towns are popular as holiday resorts; they differ in
character but all are well-connected by boat services. Isola
Del Garda is a beautiful private island which dates back
to the Roman Empire. Three of Italy's 20 wine producing
regions border Lake Garda. Each one uses grape varieties
which are local to the region to produce a diverse range of
red, white and rose wines.
CHOOSE YOUR ITINERARY:
Itinerary 1: Fly London to Verona, transfer to Lake Garda for
3 night hotel stay - 1st class rail journey to Venice, overnight
hotel stay - embark ship - Katakolon - Santorini - Kusadasi
- Mykonos - Thessaloniki - Athens - Zaknthos - Venice,
disembark ship for flight to London
Itinerary 2: Fly London to Verona, transfer to Lake Garda for 3
night hotel stay - 1st class rail journey to Venice, overnight hotel
stay - embark ship - Split - Kotor - Taranto - Naples - Rome
- Florence - Provence - Barcelona, disembark ship for flight to
London
Itinerary 3: Fly London to Verona, transfer to Lake Garda for
3 night hotel stay - 1st class rail journey to Venice, overnight
hotel stay - embark ship (overnight in port) - Kotor - Messina
- Naples - Portofino - Naples - Rome, disembark ship for flight
to London
2022 Itinerary Nights Interior Oceanview Balcony Suite
12 May 1 14 £1759 £2199 £2579 £5479
22 May 2 13 £1759 £2179 £2359 £5029
9 Jun 1 14 £1939 £2379 £2679 £5989
19 Jun 3 13 £1789 £2099 £2459 £4579
7 Jul 1 14 £1929 £2149 £2899 £5759
17 Jul 2 13 £1889 £2029 £2539 £4689
4 Aug 1 14 £1949 £2229 £2899 £5339
14 Aug 3 13 £1869 £2039 £2459 £4499
1 Sep 1 14 £1999 £2279 £2969 £5949
11 Sep 2 13 £1699 £1979 £2439 £4699
29 Sep 1 14 £1929 £2189 £2839 SOLD OUT
9 Oct 3 13 £1659 £1839 £2369 £4459