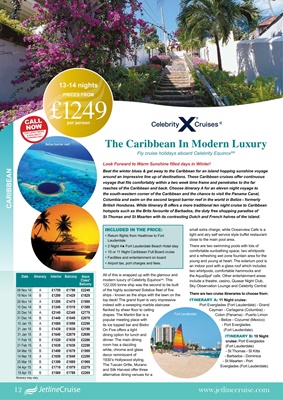 CARIBBEANLook Forward to Warm Sunshine filled days in Winter!
Beat the winter blues & get away to the Caribbean for an island hopping sunshine voyage
around an impressive line up of destinations. These Caribbean cruises offer continuous
voyage that fits comfortably within a two week time frame and penetrates to the far
reaches of the Caribbean and back. Choose itinerary A for an eleven night voyage to
the south-western corner of the Caribbean and the chance to visit the Panama Canal,
Columbia and swim on the second largest barrier reef in the world in Belize - formerly
British Honduras. While itinerary B offers a more traditional ten night cruise to Caribbean
hotspots such as the Brits favourite of Barbados, the duty free shopping paradise of
St Thomas and St Maarten with its contrasting Dutch and French halves of the island.
The Caribbean In Modern Luxury
Fly cruise holidays aboard Celebrity EquinoxSM
St Thomas
13-14 nights
PRICES FROM
£1249per person
Belize barrier reef
INCLUDED IN THE PRICE:
• Return flights from Heathrow to Fort
Lauderdale
• 2 Night 4 Fort Lauderdale Beach Hotel stay
• 10 or 11 Night Caribbean Full Board cruise
• Facilities and entertainment on board
• Airport tax, port charges and fees.
All of this is wrapped up with the glamour and
modern luxury of Celebrity EquinoxSM. This
122,000 tonne ship was the second to be built
of the highly acclaimed Solstice fleet of five
ships - known as the ships with the lawn on the
top deck! The grand foyer is very impressive
indeed with a sweeping marble staircase
flanked by sheer floor to ceiling
drapes. The Martini Bar is a
popular meeting place with
its ice topped bar and Bistro
On Five offers a light
dining option for lunch and
dinner. The main dining
room has a dazzling
white, chrome and glass
decor reminiscent of
1930's Hollywood styling.
The Tuscan Grille, Murano
and Silk Harvest offer three
alternative dining venues for a
small extra charge; while Oceanview Cafe is a
light and airy self service style buffet restaurant
close to the main pool area.
There are two swimming pools with lots of
comfortable sunbathing space, two whirlpools
and a refreshing wet zone fountain area for the
young and young at heart. The solarium pool is
an indoor pool with a glass roof which includes
two whirlpools, comfortable hammocks and
the AquaSpa® cafe. Other entertainment areas
include a theatre, casino, Quasar Night Club,
Sky Observation Lounge and Celebrity Central.
There are two cruise itineraries to choose from:
ITINERARY A: 11 Night cruise:
Port Everglades (Fort Lauderdale) - Grand
Cayman - Cartagena (Columbia) -
Colon (Panama) - Puerto Limon
- Belize - Cozumel (Mexico)
- Port Everglades
(Fort Lauderdale).
ITINERARY B: 10 Night
cruise: Port Everglades
(Fort Lauderdale)
- St Thomas - St Kitts
- Barbados - Dominica
- St Maarten - Port
Everglades (Fort Lauderdale).
Date Itinerary Interior Balcony Aqua
Class®
Balcony
08 Nov 14 A £1759 £1799 £2249
19 Nov 14 B £1299 £1429 £1829
29 Nov 14 A £1299 £1479 £1999
10 Dec 14 B £1249 £1519 £1589
20 Dec 14 A £2149 £2349 £2779
31 Dec 14 B £1449 £1649 £2079
10 Jan 15 A £1689 £1899 £2299
21 Jan 15 B £1439 £1839 £2199
31 Jan 15 A £1649 £2079 £2699
11 Feb 15 B £1529 £1839 £2286
21 Feb 15 A £1639 £1939 £2299
04 Mar 15 B £1499 £1679 £1999
14 Mar 15 A £1659 £1849 £2299
25 Mar 15 B £1399 £1669 £1969
04 Apr 15 A £1719 £1979 £2279
15 Apr 15 B £1569 £1789 £2269
Itinerary may vary.
Fort Lauderdale