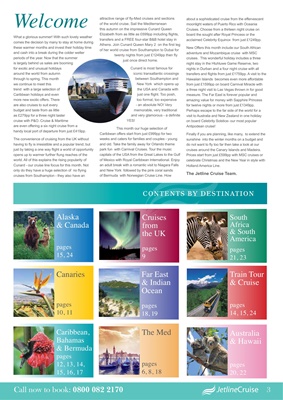 CONTENTS BY DESTINATION
CONTENTS BY DESTINATION
3 to book visit: www.jetlinecruise.com or call: 0800 082 2170
3 to book visit: www.jetlinecruise.com or call: 0800 082 2170
Call now to book: 0800 082 2170 3
WelcomeWhat a glorious summer! With such lovely weather
comes the decision by many to stay at home during
these warmer months and invest their holiday time
and cash into a break during the colder wetter
periods of the year. Now that the summer
is largely behind us sales are booming
for exotic and unusual holidays
around the world from autumn
through to spring. This month
we continue to meet this
trend with a large selection of
Caribbean holidays and even
more new exotic offers. There
are also cruises to suit every
budget and taste from as little
as £279pp for a three night taster
cruise with P&O. Cruise & Maritime
are even offering a six night cruise from a
handy local port of departure from just £419pp.
The convenience of cruising from the UK without
having to fly is irresistible and a popular trend; but
just by taking a one way flight a world of opportunity
opens up to warmer further flung reaches of the
world. All of this explains the rising popularity of
Cunard - our cruise line focus for this month. Not
only do they have a huge selection of no flying
cruises from Southampton - they also have an
Cruises
from
the UK
pages
9
The Med
pages
6, 8, 18
South
Africa
& South
America
pages
21, 23
Train Tour
& Cruise
pages
14, 15, 24
Caribbean,
Bahamas
& Bermuda
pages
12, 13, 14,
15, 16, 17
Far East
& Indian
Ocean
pages
18, 19
Alaska
& Canada
pages
15, 24
Canaries
pages
10, 11
Australia
& Hawaii
pages
20, 22
attractive range of fly-Med cruises and sections
of the world cruise. Sail the Mediterranean
this autumn on the impressive Cunard Queen
Elizabeth from as little as £699pp including flights,
transfers and a FREE four-star B&B hotel stay in
Athens. Join Cunard Queen Mary 2 on the first leg
of her world cruise from Southampton to Dubai for
twenty nights from just £1249pp then fly
just once direct home.
Cunard is most famous for
iconic transatlantic crossings
between Southampton and
New York which opens up
the USA and Canada with
just one flight. Too posh,
too formal, too expensive
- an absolute NO! Very
memorable, very traditional
and very glamorous - a definite
YES!
This month our huge selection of
Caribbean offers start from just £999pp for two
weeks and caters for families and couples - young
and old. Take the family away for Orlando theme
park fun with Carnival Cruises. Tour the music
capitals of the USA from the Great Lakes to the Gulf
of Mexico with Royal Caribbean International. Enjoy
an adult break with a romantic visit to Niagara Falls
and New York followed by the pink coral sands
of Bermuda with Norwegian Cruise Line. How
about a sophisticated cruise from the effervescent
moonlight waters of Puerto Rico with Oceania
Cruises. Choose from a thirteen night cruise on
board the sought after Royal Princess or the
acclaimed Celebrity Equinox from just £1249pp.
New Offers this month include our South African
adventure and Mozambique cruise with MSC
cruises. This wonderful holiday includes a three
night stay in the Hluhluwe Game Reserve, two
nights in Durban and a four night cruise with all
transfers and flights from just £1759pp. A visit to the
Hawaiian Islands becomes even more affordable
from just £1599pp on board Carnival Miracle with
a three night visit to Las Vegas thrown in for good
measure. The Far East is forever popular and
amazing value for money with Sapphire Princess
for twelve nights or more from just £1349pp.
Perhaps escape to the far side of the world for a
visit to Australia and New Zealand in one holiday
on board Celebrity Solstice- our most popular
Antipodean cruise!
Finally if you are planning, like many, to extend the
sunshine into the winter months on a budget and
do not want to fly too far then take a look at our
cruises around the Canary Islands and Madeira.
Prices start from just £599pp with MSC cruises or
celebrate Christmas and the New Year in style with
Holland America Line.
The Jetline Cruise Team.