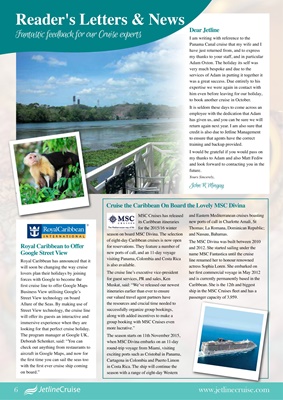 Royal Caribbean to Offer
Google Street View
Royal Caribbean has announced that it
will soon be changing the way cruise
lovers plan their holidays by joining
forces with Google to become the
first cruise line to offer Google Maps
Business View utilising Google's
Street View technology on board
Allure of the Seas. By making use of
Street View technology, the cruise line
will offer its guests an interactive and
immersive experience when they are
looking for that perfect cruise holiday.
The program manager at Google UK,
Deborah Schenker, said: "You can
check out anything from restaurants to
aircraft in Google Maps, and now for
the first time you can sail the seas too
with the first ever cruise ship coming
on board."
Cruise the Caribbean On Board the Lovely MSC Divina
MSC Cruises has released
its Caribbean itineraries
for the 2015/16 winter
season on board MSC Divina. The selection
of eight-day Caribbean cruises is now open
for reservations. They feature a number of
new ports of call, and an 11-day voyage
visiting Panama, Colombia and Costa Rica
is also available.
The cruise line's executive vice-president
for guest services, PR and sales, Ken
Muskat, said: "We've released our newest
itineraries earlier than ever to ensure
our valued travel agent partners have
the resources and crucial time needed to
successfully organize group bookings,
along with added incentives to make a
group booking with MSC Cruises even
more lucrative."
The season starts on 11th November 2015,
when MSC Divina embarks on an 11-day
round-trip voyage from Miami, visiting
exciting ports such as Cristobal in Panama,
Cartagena in Colombia and Puerto Limon
in Costa Rica. The ship will continue the
season with a range of eight-day Western
and Eastern Mediterranean cruises boasting
new ports of call in Charlotte Amali, St
Thomas; La Romana, Dominican Republic;
and Nassau, Bahamas.
The MSC Divina was built between 2010
and 2012. She started sailing under the
name MSC Fantastica until the cruise
line renamed her to honour renowned
actress Sophia Loren. She embarked on
her first commercial voyage in May 2012
and is currently permanently based in the
Caribbean. She is the 12th and biggest
ship in the MSC Cruises fleet and has a
passenger capacity of 3,959.
Dear Jetline
I am writing with reference to the
Panama Canal cruise that my wife and I
have just returned from, and to express
my thanks to your staff, and in particular
Adam Oxton. The holiday its self was
very much bespoke and due to the
services of Adam in putting it together it
was a great success. Due entirely to his
expertise we were again in contact with
him even before leaving for our holiday,
to book another cruise in October.
It is seldom these days to come across an
employee with the dedication that Adam
has given us, and you can be sure we will
return again next year. I am also sure that
credit is also due to Jetline Management
to ensure that agents have the correct
training and backup provided.
I would be grateful if you would pass on
my thanks to Adam and also Matt Fediw
and look forward to contacting you in the
future.
Yours Sincerely,
John R Mingay
Reader's Letters & News
Fantastic feedback for our Cruise experts