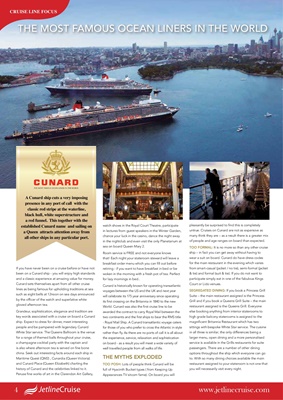 CRUISE LINE FOCUS
THE MOST FAMOUS OCEAN LINERS IN THE WORLD
If you have never been on a cruise before or have not
been on a Cunard ship - you will enjoy high standards
and a classic experience at amazing value for money.
Cunard sets themselves apart from all other cruise
lines as being famous for upholding traditions at sea
such as eight bells at 12noon on sea days announced
by the officer of the watch and superlative white
gloved afternoon tea.
Grandeur, sophistication, elegance and tradition are
key words associated with a cruise on board a Cunard
ship. Expect to dress for dinner, meet interesting
people and be pampered with legendary Cunard
White Star service. The Queens Ballroom is the venue
for a range of themed balls throughout your cruise,
a champagne cocktail party with the captain and
is also where afternoon tea is served on fine bone
china. Seek out interesting facts around each ship in
Maritime Quest (QM2) , Cunardia (Queen Victoria)
and Cunard Place (Queen Elizabeth) charting the
history of Cunard and the celebrities linked to it.
Peruse fine works of art in the Clarendon Art Gallery,
watch shows in the Royal Court Theatre, participate
in lectures from guest speakers in the Winter Garden,
chance your luck in the casino, dance the night away
in the nightclub and even visit the only Planetarium at
sea on board Queen Mary 2.
Room service is FREE and not everyone knows
that! Each night your stateroom steward will leave a
breakfast order menu which you can fill out before
retiring - if you want to have breakfast in bed or be
woken in the morning with a fresh pot of tea. Perfect
for lazy mornings in bed..
Cunard is historically known for operating transatlantic
voyages between the US and the UK and next year
will celebrate its 175 year anniversary since operating
its first crossing on the Britannia in 1840 to the new
World. Cunard was also the first cruise line to be
awarded the contract to carry Royal Mail between the
two continents and the first ships to bear the RMS title
- Royal Mail Ship. A Cunard transatlantic voyage caters
for those of you who prefer to cross the Atlantic in style
rather than fly. As there are no ports of call it is all about
the experience, service, relaxation and sophistication
on board - as a result you will meet a wide variety of
well travelled people from all walks of life.
THE MYTHS EXPLODED
TOO POSH: Lots of people think Cunard will be
full of Hyacinth Bucket types ( from Keeping Up
Appearances TV sitcom fame). On board you will
pleasantly be surprised to find this is completely
untrue. Cruises on Cunard are not as expensive as
many think they are - as a result there is a greater mix
of people and age ranges on board than expected.
TOO FORMAL: It is no more so than any other cruise
ship - in fact you can get away without having to
wear a suit on board. Cunard do have dress codes
for the main restaurant in the evening which varies
from smart-casual (jacket / no tie), semi-formal (jacket
& tie) and formal (suit & tie). If you do not want to
participate simply eat in one of the fabulous Kings
Court or Lido venues.
SEGREGATED DINING: If you book a Princess Grill
Suite - the main restaurant assigned is the Princess
Grill and if you book a Queens Grill Suite - the main
restaurant assigned is the Queens Grill. Everyone
else booking anything from interior staterooms to
high grade balcony staterooms is assigned to the
magnificent Britannia Restaurant which has two
sittings with bespoke White Star service. The cuisine
in all three is similar; the only differences being a
larger menu, open dining and a more personalised
service is available in the Grills restaurants for suite
passengers. There are a number of other dining
options throughout the ship which everyone can go
to. With so many dining choices available the main
restaurant assigned to your stateroom is not one that
you will necessarily visit every night.
A Cunard ship cuts a very imposing
presence in any port of call with the
classic red stripe at the waterline,
black hull, white superstructure and
a red funnel. This together with the
established Cunard name and sailing on
a Queen attracts attention away from
all other ships in any particular port.