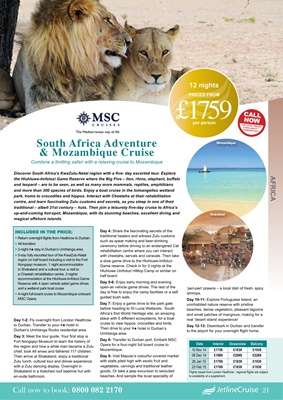 AFRICA
South Africa Adventure
& Mozambique Cruise
Combine a thrilling safari with a relaxing cruise to Mozambique
12 nights
PRICES FROM
£1759per person Mozambique
Discover South Africa's KwaZulu-Natal region with a five- day escorted tour. Explore
the Hluhluwe-Imfolozi Game Reserve where the Big Five - lion, rhino, elephant, buffalo
and leopard - are to be seen, as well as many more mammals, reptiles, amphibians
and more than 300 species of birds. Enjoy a boat cruise in the Isimangeliso wetland
park, home to crocodiles and hippos. Interact with Cheetahs at their rehabilitation
centre, and learn fascinating Zulu customs and secrets, as you sleep in one of their
traditional - albeit 21st century - huts. Then join a leisurely five-day cruise to Africa's
up-and-coming hot-spot, Mozambique, with its stunning beaches, excellent diving and
magical offshore islands.
Day 1-2: Fly overnight from London Heathrow
to Durban. Transfer to your 4 hotel in
Durban's Umhlanga Rocks residential area.
Day 3: Meet the tour guide. Your first stop is
Fort Nongqayi Museum to learn the history of
the region and how a white man became a Zulu
chief, took 48 wives and fathered 117 children.
Then arrive at Shakaland, enjoy a traditional
Zulu lunch, cultural tour and dinner experience
with a Zulu dancing display. Overnight in
Shakaland in a thatched roof beehive hut with
en-suite bathroom.
Day 4: Share the fascinating secrets of the
traditional healers and witness Zulu customs
such as spear making and beer-drinking
ceremony before driving to an endangered Cat
rehabilitation centre where you can interact
with cheetahs, servals and caracals. Then take
a slow game drive to the Hluhluwe-Imfolozi
Game reserve. Check in for 3 nights at the
Hluhluwe Umfolozi Hilltop Camp or similar on
half board.
Day 5-6: Enjoy early morning and evening
open-air vehicle game drives. The rest of the
day is free to enjoy the camp facilities or a self
guided bush walk.
Day 7: Enjoy a game drive to the park gate
before heading to St Lucia Wetlands, South
Africa's first World Heritage site, an amazing
place with 5 different ecosystems, for a boat
cruise to view hippos, crocodiles and birds.
Then drive to your 4 hotel in Durban's
Umhlanga area.
Day 8: Transfer to Durban port. Embark MSC
Opera for a four-night full board cruise to
Mozambique.
Day 9: Visit Maputo's colourful covered market
with stalls piled high with exotic fruit and
vegetables, carvings and traditional leather
goods. Or take a jeep excursion to secluded
beaches. And sample the local speciality of
INCLUDED IN THE PRICE:
• Return overnight flights from Heathrow to Durban.
• All transfers
• 2-night 4 stay in Durban's Umhlanga area
• 5-day fully escorted tour of the KwaZulu-Natal
region on half board including a visit to the Fort
Nongqayi museum, 1 night accommodation
in Shakaland and a cultural tour, a visit to
a Cheetah rehabilitation centre, 3 nights'
accommodation at the Hluhluwe-Imfolozi Game
Reserve with 4 open vehicle safari game drives
and a wetland park boat cruise
• 4-night full-board cruise to Mozambique onboard
MSC Opera.
Call now to book: 0800 082 2170 21
Date Interior Oceanview Balcony
10 Nov 14 £1759 £1839 £1939
08 Dec 14 £1989 £2069 £2269
26 Jan 15 £1769 £1839 £1939
23 Feb 15 £1769 £1839 £1939
Flights based from London Heathrow - regional flights are subject
to availability at a supplement.
Shakaland
'peri-peri' prawns - a local dish of fresh, spicy
shrimps.
Day 10-11: Explore Portuguese Island, an
uninhabited nature reserve with pristine
beaches, dense vegetation, pleasant lagoons
and small patches of mangrove, making for a
real 'desert island' experience!
Day 12-13: Disembark in Durban and transfer
to the airport for your overnight flight home.