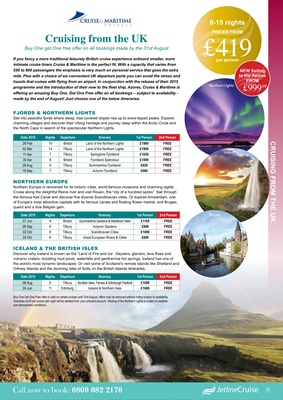 CRUISING FROM THE UK
Call now to book: 0800 082 2170 9
If you fancy a more traditional leisurely British cruise experience onboard smaller, more
intimate cruise liners Cruise & Maritime is the perfect fit. With a capacity that varies from
550 to 800 passengers the emphasis is very much on personal service that goes the extra
mile. Plus with a choice of six convenient UK departure ports you can avoid the stress and
hassle that comes with flying from an airport. In conjunction with the release of their 2015
programme and the introduction of their new to the fleet ship, Azores, Cruise & Maritime is
offering an amazing Buy One, Get One Free offer on all bookings - subject to availability -
made by the end of August! Just choose one of the below itineraries.
Cruising from the UK
Buy One get One free offer on all bookings made by the 31st August
6-15 nights
PRICES FROM
£419per person
Northern Lights
FJORDS & NORTHERN LIGHTS
Sail into peaceful fjords where steep, tree covered slopes rise up to snow-tipped peaks. Explore
charming villages and discover their Viking heritage and journey deep within the Arctic Circle and
the North Cape in search of the spectacular Northern Lights.
Date 2015 Nights Departure Itinerary 1st Person 2nd Person
26 Feb 15 Bristol Land of the Northern Lights £1989 FREE
02 Mar 14 Tilbury Land of the Northern Lights £1909 FREE
11 Apr 7 Tilbury Springtime Fjordland £1029 FREE
30 Apr 8 Bristol Fjordland Splendour £1099 FREE
28 Aug 6 Tilbury Summertime Fjordland £829 FREE
19 Sep 7 Tilbury Autumn Fjordland £969 FREE
NORTHERN EUROPE
Northern Europe is renowned for its historic cities, world-famous museums and charming sights.
Cruise along the delightful Reine river and visit Rouen, the "city of a hundred spires". Sail through
the famous Kiel Canal and discover five diverse Scandinavian cities. Or explore Amsterdam, one
of Europe's most attractive capitals with its famous canals and floating flower market, and Bruges,
quaint and a true Belgian gem.
Date 2015 Nights Departure Itinerary 1st Person 2nd Person
07 Jun 8 Bristol Summertime Gardens & Medieval Cities £1169 FREE
26 Sep 6 Tilbury Autumn Gardens £889 FREE
02 Oct 8 Tilbury Scandinavian Cities £1069 FREE
24 Oct 6 Tilbury Great European Rivers & Cities £889 FREE
ICELAND & THE BRITISH ISLES
Discover why Iceland is known as the "Land of Fire and Ice'. Geysers, glaciers, lava flows and
volcanic craters, bubbling mud pools, waterfalls and geothermal hot springs, Iceland has one of
the world's most dynamic landscapes. Or visit some of Scotland's remote islands like Shetland and
Orkney Islands and the stunning Isles of Scilly on the British Islands itineraries.
Date 2015 Nights Departure Itinerary 1st Person 2nd Person
08 Aug 8 Tilbury Scottish Isles, Faroes & Edinburgh Festival £1099 FREE
24 Jun 11 Edinburg Iceland & Northern Isles £1669 FREE
Iceland
Bruges
NEW Sailing
to the Azores
FROM
£999PP
Buy One Get One Free offer is valid on certain cruises until 31st August, offers may be removed without notice subject to availability.
Gratuities at £5 per person per night will be debited from your onboard account. Viewing of the Northern Lights is subject to weather
and atmospheric conditions.