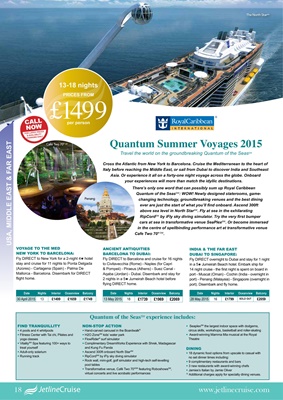 USA, MIDDLE EAST & FAR EAST
Cross the Atlantic from New York to Barcelona. Cruise the Mediterranean to the heart of
Italy before reaching the Middle East, or sail from Dubai to discover India and Southeast
Asia. Or experience it all on a forty-one night voyage across the globe. Onboard
your experiences will more than match the idyllic destinations.
There's only one word that can possibly sum up Royal Caribbean
Quantum of the SeasSM: WOW! Newly designed staterooms, gamechanging technology,
groundbreaking venues and the best dining
ever are just the start of what you'll find onboard. Ascend 300ft
above sea level in North StarSM. Fly at sea in the exhilarating
RipCordSM by iFly sky diving simulator. Try the very first bumper
cars at sea in transformative venue SeaPlexSM. Or become immersed
in the centre of spellbinding performance art at transformative venue
Cafe Two 70° SM.
Quantum Summer Voyages 2015
Travel the world on the groundbreaking Quantum of the SeasSM
The North StarSM
13-18 nights
PRICES FROM
£1499per person
Café Two 70° SM
Penang
Quantum of the SeasSM experience includes:
FIND TRANQUILLITY
• 4 pools and 4 whirlpools
• Fitness Center with Tai chi, Pilates and
yoga classes
• VitalitySM Spa featuring 100+ ways to
treat yourself
• Adult-only solarium
• Running track
NON-STOP ACTION
• Hand-carved carousel in the Boardwalk®
• H2O ZoneSM kids' water park
• FlowRider® surf simulator
• Complimentary DreamWorks Experience with Shrek, Madagascar
and Kung Fu Panda
• Ascend 300ft onboard North StarSM
• RipCordSM by iFly sky diving simulator
• Rock wall, mini-golf, golf simulator and high-tech self-levelling
pool tables
• Transformative venue, Café Two 70°SM featuring RoboshowsSM,
virtual concerts and live acrobatic performances
• SeaplexSM the largest indoor space with dodgems,
circus skills, workshops, basketball and roller-skating
• Award-winning Mamma Mia musical at the Royal
Theatre
DINING
• 18 dynamic food options from upscale to casual with
no set dinner times including:
• 9 complimentary restaurants and bars
• 3 new restaurants with award-winning chefs
• Jamies's Italian by Jamie Oliver
†† Additional charges apply for specialty dining venues.
VOYAGE TO THE MED
NEW YORK TO BARCELONA:
Fly DIRECT to New York for a 2-night 4 hotel
stay and cruise for 11 nights to Ponta Delgada
(Azores) - Cartagena (Spain) - Palma De
Mallorca - Barcelona. Disembark for DIRECT
flight home.
ANCIENT ANTIQUITIES
BARCELONA TO DUBAI:
Fly DIRECT to Barcelona and cruise for 16 nights
to Civitavecchia (Rome) - Naples (for Capri
& Pompeii) - Piraeus (Athens) - Suez Canal -
Aqaba (Jordan) - Dubai. Disembark and stay for
2 nights in a 5 Jumeirah Beach hotel before
flying DIRECT home.
INDIA & THE FAR EAST
DUBAI TO SINGAPORE:
Fly DIRECT overnight to Dubai and stay for 1 night
in a 5 Jumeirah Beach hotel. Embark ship for
14 night cruise - the first night is spent on board in
port - Muscat (Oman) - Cochin (India - overnight in
port) - Penang (Malaysia) - Singapore (overnight in
port). Disembark and fly home.
Date Nights Interior Oceanview Balcony
30 April 2015 13 £1499 £1659 £1749
Date Nights Interior Oceanview Balcony
13 May 2015 18 £1739 £1969 £2069
Date Nights Interior Oceanview Balcony
28 May 2015 16 £1799 SOLD OUT £2059