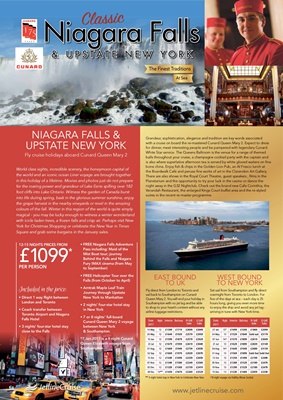 Niagara Falls
& UPSTATE NEW YORK
Classic
NIAGARA FALLS &
UPSTATE NEW YORK
Fly cruise holidays aboard Cunard Queen Mary 2
World class sights, incredible scenery, the honeymoon capital of
the world and an iconic ocean Liner voyage are brought together
in this holiday of a lifetime. Movies and photos just do not prepare
for the roaring power and grandeur of Lake Eerie spilling over 182
foot cliffs into Lake Ontario. Witness the garden of Canada burst
into life during spring, bask in the glorious summer sunshine, enjoy
the grape harvest in the nearby vineyards or revel in the amazing
colours of the fall. Winter in this region of the world is quite simply
magical - you may be lucky enough to witness a winter wonderland
with icicle laden trees, a frozen falls and crisp air. Perhaps visit New
York for Christmas Shopping or celebrate the New Year in Times
Square and grab some bargains in the January sales.
12-15 NIGHTS PRICES FROM
£1099*
PER PERSON
Grandeur, sophistication, elegance and tradition are key words associated
with a cruise on board the re-mastered Cunard Queen Mary 2. Expect to dress
for dinner, meet interesting people and be pampered with legendary Cunard
White Star service. The Queens Ballroom is the venue for a range of themed
balls throughout your cruise, a champagne cocktail party with the captain and
is also where superlative afternoon tea is served by white gloved waiters on fine
bone china. Enjoy fish & chips in the Golden Lion Pub, an Al Fresco lunch at
the Boardwalk Café and peruse fine works of art in the Clarendon Art Gallery.
There are also shows in the Royal Court Theatre, guest speakers , films in the
Planetarium and the opportunity to try your luck in the casino or dance the
night away in the G32 Nightclub. Check out the brand new Cafe Corinthia, the
Verandah Restaurant, the enlarged Kings Court buffet area and the re-styled
suites in the recent re-master programme.
EAST BOUND
TO UK
Date
2017
Ngts Interior Balcony Pr Grill
Suite
Q Grill
Suite
10 May 12 £1399 £1719 £2699 £3049
26 May 12 £1649 £1929 £2579 £2959
10 Jun 12 £1599 £1879 £2579 £2929
23 Jul 12 £1679 £1959 £2619 £3049
07 Aug 12 £1669 £1949 £2739 £3039
02 Sep 12 £1669 £1979 £2639 £3079
15 Oct 12 £1439 £1699 £2339 £2659
07 Nov 12 £1349 £1589 £2249 £2549
03 Dec 12 £1329 £1569 £2159 £2419
28 Dec 13NYR £1439 £1679 £2269 £2529
NYR 3 night hotel stay in New York to Celebrate New Year.
Fly direct from London to Toronto and
sail back to Southampton on Cunard
Queen Mary 2. You will end your holiday in
Southampton with no jet lag and be able
to shop to your heart's content without any
airline luggage restrictions.
WEST BOUND
TO NEW YORK
Set sail from Southampton and fly direct
overnight from Toronto to London. For
five of the days at sea - each day is 25
hours long, giving you even more time
to enjoy the ship and avoid any jet lag -
arriving in tune with New York time.
The Finest Traditions
At Sea
Included in the price:
• Direct 1 way flight between
London and Toronto
• Coach transfer between
Toronto Airport and Niagara
Falls Hotel
• 3 nights' four-star hotel stay
close to the Falls
• FREE Niagara Falls Adventure
Pass including: Maid of the
Mist Boat tour; journey
Behind the Falls and Niagara
Fury IMAX cinema (from May
to September)
• FREE Helicopter Tour over the
Falls (from October to April)
• Amtrak Maple Leaf Train
Journey through Upstate
New York to Manhattan
• 2 nights' four-star hotel stay
in New York
• 7 or 8 nights' full-board
Cunard Queen Mary 2 voyage
between New York
& Southampton.
*7 Jan 2017 is a 9 night Cunard
Queen Elizabeth voyage from
Southampton
Date
2017
Ngts Interior Balcony Pr Grill
Suite
Q Grill
Suite
07 Jan 15* £1099 £1269 £1869 £2099
24 May 13 £1529 £1849 Sold out £3179
07 Jun 14^ £1579 £1899 £2619 £3049
21 Jul 13 £1629 £1899 £2839 £3149
04 Aug 14^ £1649 £1949 £2689 £3139
31 Aug 13 £1569 £1899 Sold Out Sold Out
13 Oct 13 £1259 £1499 £2199 £2499
05 Nov 13 £1289 £1529 £2189 £2479
19 Nov 13 £1299 £1529 £2189 £2479
15 Dec 13 £1229 £1469 £2059 £2339
^8 night voyage via Halifax (Nova Scotia)
14