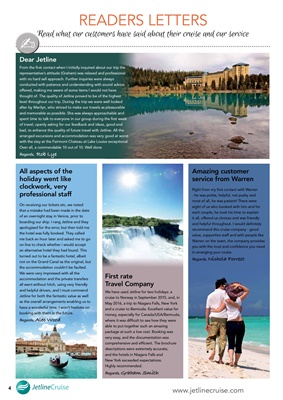 READERS LETTERS
Read what our customers have said about their cruise and our service
All aspects of the
holiday went like
clockwork, very
professional staff
On receiving our tickets etc, we noted
that a mistake had been made in the date
of an overnight stay in Venice, prior to
boarding our ship. I rang Jetline and they
apologised for the error, but then told me
the hotel was fully booked. They called
me back an hour later and asked me to go
on line to check whether i would accept
an alternative hotel they had found. This
turned out to be a fantastic hotel, albeit
not on the Grand Canal as the original, but
the accommodation couldn't be faulted.
We were very impressed with all the
accommodation and the private transfers
all went without hitch, using very friendly
and helpful drivers, and I must commend
Jetline for both the fantastic value as well
as the overall arrangements enabling us to
have a wonderful time. I won't hesitate on
booking with them in the future.
Regards, Alec Wood
First rate
Travel Company
We have used Jetline for two holidays: a
cruise to Norway in September 2015, and, in
May 2016, a trip to Niagara Falls, New York
and a cruise to Bermuda. Excellent value for
money, especially for Canada/USA/Bermuda,
where it was difficult to see how they were
able to put together such an amazing
package at such a low cost. Booking was
very easy, and the documentation was
comprehensive and efficient. The brochure
descriptions were extremely accurate,
and the hotels in Niagara Falls and
New York exceeded expectations.
Highly recommended.
Regards, Graham Smith
4
Amazing customer
service from Warren
Right from my first contact with Warren
- he was polite, helpful, not pushy and
most of all, he was patient! There were
eight of us who booked with him and for
each couple, he took his time to explain
it all, offered us choices and was friendly
and helpful throughout. I would definitely
recommend this cruise company - good
value, supportive staff and with people like
Warren on the team, the company provides
you with the trust and confidence you need
in arranging your cruise.
Regards, Nichola Forrest
Dear Jetline
From the first contact when I initially inquired about our trip the
representative's attitude (Graham) was relaxed and professional
with no hard sell approach. Further inquiries were always
conducted with patience and understanding with sound advice
offered, making me aware of some items I would not have
thought of. The quality of Jetline proved to be of the highest
level throughout our trip. During the trip we were well looked
after by Marilyn, who strived to make our travels as pleasurable
and memorable as possible. She was always approachable and
spent time to talk to everyone in our group during the first week
of travel, openly asking for our feedback and ideas, good and
bad, to enhance the quality of future travel with Jetline. All the
arranged excursions and accommodation was very good at worst
with the stay at the Fairmont Chateau at Lake Louise exceptional.
Over all, a commendable 10 out of 10. Well done
Regards, Rob Lye