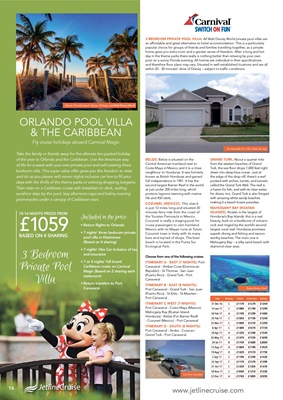 3 BEDROOM PRIVATE POOL VILLA: All Walt Disney World private pool villas are
an affordable and great alternative to hotel accommodation. This is a particularly
popular choice for groups of friends and families travelling together, as a private
home gives you extra room and a greater sense of freedom. After a long and hot
day in the theme parks there really is nothing better than relaxing by your own
pool on a sunny Florida evening. All homes are individual in their specifications
and therefore floor plans may vary. Situated in well-established locations and are all
within 20 - 30 minutes' drive of Disney - subject to traffic conditions.
ORLANDO POOL VILLA
& THE CARIBBEAN
Fly cruise holidays aboard Carnival Magic
Take the family or friends away for the ultimate fun-packed holiday
of the year to Orlando and the Caribbean. Live the American way
of life for a week with your own private pool and self catering three
bedroom villa. This super value offer gives you the freedom to relax
and do as you please with seven nights inclusive car hire to fill your
days with the thrills of the theme parks or enticing shopping bargains.
Then relax on a Caribbean cruise with breakfast on deck, sizzling
sunshine days by the pool, lazy afternoon naps and balmy evening
promenades under a canopy of Caribbean stars.
Included in the price:
• Return flights to Orlando
• 7 nights' three bedroom private
pool villa in Kissimmee
(Based on 4 sharing)
• 7 nights' Hire Car Inclusive of tax
and insurance
• 7 or 8 nights' full board
Caribbean cruise on Carnival
Magic (Based on 2 sharing each
stateroom)
• Return transfers to Port
Canaveral.
15-16 NIGHTS PRICES FROM
£1059BASED ON 4 SHARING
Above: FLorida beach. Below: Perhaps visit Walt Disney World
3 Bedroom
Private Pool
Villa
An example of a villa, these do vary
Choose from one of the following cruises:
ITINERARY A - EAST (7 NIGHTS): Port
Canaveral - Amber Cove (Dominican
Republic) - St Thomas - San Juan
(Puerto Rico) - Grand Turk - Port
Canaveral .
ITINERARY B - EAST (8 NIGHTS):
Port Canaveral - Grand Turk - San Juan
(Puerto Rico) - St Kitts - St Maarten -
Port Canaveral .
ITINERARY C WEST (7 NIGHTS):
Port Canaveral - Costa Maya (Mexico)-
Mahogany Bay (Roatan Island-
Honduras) - Belize (For Barrier Reef)
- Cozumel (Mexico) - Port Canaveral
ITINERARY D - SOUTH (8 NIGHTS):
Port Canaveral - Aruba - Curacao -
Grand Turk - Port Canaveral .
BELIZE: Belize is situated on the
Central American mainland next to
Costa Maya in Mexico and it is a close
neighbour to Honduras. It was formerly
known as British Honduras and gained
full independence in 1981. It has the
second largest Barrier Reef in the world
at just under 200 miles long, which
protects lagoons teeming with marine
life and 450 islets.
COZUMEL (MEXICO). This island
is just 12 miles long and situated 20
minutes ferry ride from the coast of
the Yucatan Peninsula in Mexico.
Cozumel is really a staging post for
cruise passengers to visit mainland
Mexico with its Mayan ruins at Tulum.
Cozumel town is lively with its many
bars and myriad of shops. The best
beach is located in the Punta Sur
Ecological Park.
GRAND TURK. About a quarter mile
from the western beaches of Grand
Turk, the sea floor drops 7,000 feet right
down into deep blue ocean. Just at
the edge of the drop-off, there's a reef
pocked with arches, turrets, and tunnels
called the Grand Turk Wall. The reef is
a haven for fish, and with its clear water,
for divers, too. Grand Turk is also fringed
with amazing white sandy beaches
making it a beach-lovers paradise.
MAHOGANY BAY (ROATAN
ISLANDS). Roatán is the largest of
Honduras's Bay Islands, this is a real
beauty, built on a backbone of volcanic
rock and ringed by the world's second
largest coral reef. Honduras promises
superb diving and fishing and swoonworthy beaches. The main one is
Mahogany Bay - a silky sand beach with
diamond-clear seas.
Date Itinerary Interior Oceanview Balcony
31 Dec 16 C £1179 £1279 £1359
14 Jan 17 C £1089 £1199 £1299
04 Feb 17 A £1199 £1299 £1489
25 Feb 17 C £1059 £1159 £1249
25 Mar 17 C £1099 £1219 £1299
8 Apr 17 C £1489 £1619 £1739
29 Apr 17 A £1259 £1399 £1549
20 May 17 A £1479 £1559 £1699
29 Jul 17 B £1739 £1889 £2069
12 Aug 17 A £1669 £1799 £1929
19 Aug 17 D £1429 £1519 £1759
2 Sep 17 C £1199 £1299 £1429
23 Sep 17 C £1179 £1279 £1399
21 Oct 17 C £1259 £1359 £1479
18 Nov 17 C £1099 £1219 £1339
23 Dec 17 A £1769 £1899 £2059
Belize Barrier Reef
Car hire included
16