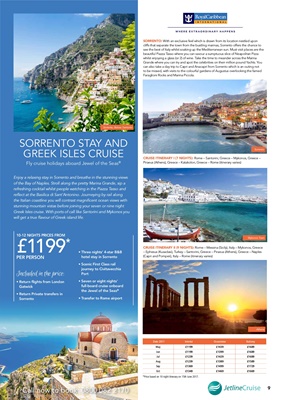 SORRENTO STAY AND
GREEK ISLES CRUISE
Fly cruise holidays aboard Jewel of the Seas®
Enjoy a relaxing stay in Sorrento and breathe in the stunning views
of the Bay of Naples. Stroll along the pretty Marina Grande, sip a
refreshing cocktail whilst people watching in the Piazza Tasso and
reflect at the Basilica di Sant'Antonino. Journeying by rail along
the Italian coastline you will contrast magnificent ocean views with
stunning mountain vistas before joining your seven or nine night
Greek Isles cruise. With ports of call like Santorini and Mykonos you
will get a true flavour of Greek island life.
Included in the price:
• Return flights from London
Gatwick
• Return Private transfers in
Sorrento
10-12 NIGHTS PRICES FROM
£1199*
PER PERSON
• Three nights' 4-star B&B
hotel stay in Sorrento
• Scenic First Class rail
journey to Civitavecchia
Port
• Seven or eight nights'
full-board cruise onboard
the Jewel of the Seas®
• Transfer to Rome airport
Sorrento, Below: Santorini
Date 2017 Interior Oceanview Balcony
May £1199 £1439 £1689
Jun £1199 £1399 £1689
Jul £1239 £1429 £1689
Aug £1239 £1389 £1589
Sep £1369 £1499 £1729
Oct £1349 £1469 £1669
*Price based on 10 night itinerary on 15th June 2017.
Sorrento
Mykonos Town
CRUISE ITINERARY II (9 NIGHTS): Rome - Messina (Sicily), Italy - Mykonos, Greece
- Ephesus (Kusadasi), Turkey - Santorini, Greece - Piraeus (Athens), Greece - Naples
(Capri and Pompeii), Italy - Rome (itinerary varies)
SORRENTO: With an exclusive feel which is drawn from its location nestled upon
cliffs that separate the town from the bustling marinas, Sorrento offers the chance to
see the best of Italy whilst soaking up the Mediterranean sun. Must visit places are the
beautiful Piazza Tasso where you can savour a sumptuous slice of Neapolitan Pizza
whilst enjoying a glass (or 2) of wine. Take the time to meander across the Marina
Grande where you can try and spot the celebrities on their million pound Yachts. You
can also take a day trip to Capri and Anacapri from Sorrento which is an outing not
to be missed, with visits to the colourful gardens of Augustus overlooking the famed
Faraglioni Rocks and Marina Piccola.
CRUISE ITINERARY I (7 NIGHTS): Rome - Santorini, Greece - Mykonos, Greece -
Piraeus (Athens), Greece - Katakolon, Greece - Rome (itinerary varies)
Athens 9
Call now to book: 0800 082 2170