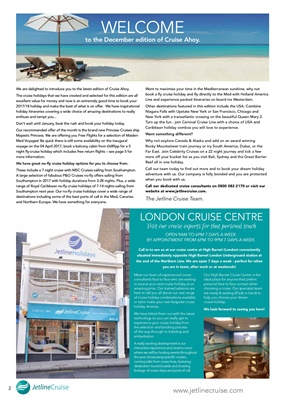 2
Call in to see us at our cruise centre at High Barnet (London) conveniently
situated immediately opposite High Barnet London Underground station at
the end of the Northern Line. We are open 7 days a week - perfect for when
you are in town, after work or at weekends!
Meet our team of experienced cruise
consultants face to face who are waiting
to source your next cruise holiday at an
amazing price. Our trained advisors are
here to tell you all about our vast range
of cruise holiday combinations available
or tailor make your own bespoke cruise
holiday itinerary.
We have kitted them out with the latest
technology so you can really get to
experience your cruise holiday from
the selection and booking process
all the way through to ticketing and
embarkation.
A really exciting development is our
interactive experience and cinema room
where we will be hosting events throughout
the year, showcasing specific cruises,
running talks from cruise lines, featuring
destination tourist boards and showing
footage of cruise ships and ports of call.
Our High Barnet Cruise Centre is the
ideal place for anyone that prefers
personal face to face contact when
choosing a cruise. Our specialist team
are ready & waiting (iPads in hand) to
help you choose your dream
cruise holiday.
We look forward to seeing you here!
OPEN 9AM TO 6PM 7 DAYS A WEEK
BY APPOINTMENT FROM 6PM TO 9PM 7 DAYS A WEEK
LONDON CRUISE CENTRE
Visit our cruise experts for that personal touch
We are delighted to introduce you to the latest edition of Cruise Ahoy.
The cruise holidays that we have created and selected for this edition are all
excellent value for money and now is an extremely good time to book your
2017/18 holiday and make the best of what is on offer. We have inspirational
holiday itineraries covering a wide choice of amazing destinations to really
enthuse and tempt you...
Don't wait until January, beat the rush and book your holiday today.
Our recommended offer of the month is the brand new Princess Cruises ship
Majestic Princess. We are offering you Free Flights for a selection of Maiden
Med Voyages! Be quick there is still some availability on the inaugural
voyage on the 04 April 2017, book a balcony cabin from £689pp for a 5
night fly-cruise holiday which includes free return flights - see page 5 for
more information.
We have great no-fly cruise holiday options for you to choose from.
These include a 7 night cruise with MSC Cruises sailing from Southampton.
A large selection of fabulous P&O Cruises no-fly offers sailing from
Southampton in 2017 with holiday durations from 3-28 nights. Plus, a wide
range of Royal Caribbean no-fly cruise holidays of 7-14 nights sailing from
Southampton next year. Our no-fly cruise holidays cover a wide range of
destinations including some of the best ports of call in the Med, Canaries
and Northern Europe. We have something for everyone.
Want to maximise your time in the Mediterranean sunshine, why not
book a fly cruise holiday and fly directly to the Med with Holland America
Line and experience packed itineraries on board ms Westerdam.
Other destinations featured in this edition include the USA. Combine
Niagara Falls with Upstate New York or San Francisco, Chicago and
New York with a transatlantic crossing on the beautiful Queen Mary 2.
Turn up the fun - join Carnival Cruise Line with a choice of USA and
Caribbean holiday combos you will love to experience.
Want something different?
Why not explore Canada & Alaska and add on an award winning
Rocky Mountaineer train journey or try South America, Dubai, or the
Far East. Join Celebrity Cruises on a 22 night journey and tick a few
more off your bucket list as you visit Bali, Sydney and the Great Barrier
Reef all in one holiday.
Call our team today to find out more and to book your dream holiday
adventure with us. Our company is fully bonded and you are protected
when you book with us.
Call our dedicated cruise consultants on 0800 082 2170 or visit our
website at www.jetlinecruise.com.
The Jetline Cruise Team.
WELCOME
to the December edition of Cruise Ahoy.