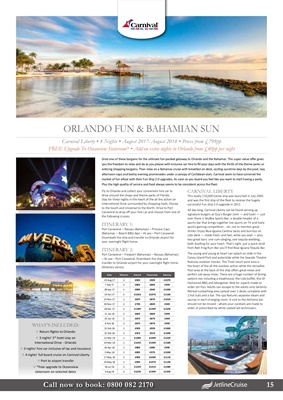 Call now to book: 0800 082 2170 15
Fly to Orlando and collect your convenient hire car to
drive around the shops and theme parks of Florida.
Stay for three nights in the heart of the all the action on
International Drive surrounded by shopping malls, Disney
to the South and Universal to the North. Drive to Port
Canaveral to drop off your hire car and choose from one of
the following cruises:
ITINERARY 1:
Port Canaveral - Nassau (Bahamas) - Princess Cays
(Bahamas - Beach BBQ day) - At sea - Port Canaveral.
Disembark the ship and transfer to Orlando airport for
your overnight flight home.
ITINERARY 2:
Port Canaveral - Freeport (Bahamas) - Nassau (Bahamas)
- At sea - Port Canaveral. Disembark the ship and
transfer to Orlando airport for your overnight flight home.
(Itinerary varies).
ORLANDO FUN & BAHAMIAN SUN
Carnival Liberty • 8 Nights • August 2017-August 2018 • Prices from £799pp
FREE Upgrade To Oceanview Stateroom* • Add on extra nights in Orlando from £40pp per night
WHAT'S INCLUDED:
✥ Return flights to Orlando
✥ 3 nights' 3* hotel stay on
International Drive - Orlando
✥ 3 nights' hire car inclusive of tax and insurance
✥ 4 nights' full board cruise on Carnival Liberty
✥ Port to airport transfer
✥ *Free upgrade to Oceanview
stateroom on selected dates
Grab one of these bargains for the ultimate fun-packed getaway to Orlando and the Bahamas. This super value offer gives
you the freedom to relax and do as you please with inclusive car hire to fill your days with the thrills of the theme parks or
enticing shopping bargains. Then relax on a Bahamas cruise with breakfast on deck, sizzling sunshine days by the pool, lazy
afternoon naps and balmy evening promenades under a canopy of Caribbean stars. Carnival seem to have cornered the
market of fun afloat with their Fun Ship 2.0 upgrades. As soon as you board you feel like you want to start having a party.
Plus the high quality of service and food always seems to be consistent across the fleet.
CARNIVAL LIBERTY
This lovely 110,000 tonne ship was launched in July 2005
and was the first ship of the fleet to receive the hugely
successful Fun ship 2.0 upgrade in 2011.
All day long, Carnival Liberty can be found serving up
signature burgers at Guy's Burger Joint - and look! - just
over there is SkyBox Sports Bar: a double-header of a
sports bar that brings together live sports on TV and lively
sports-gaming competition... oh, not to mention great
drinks! Enjoy Blue-Iguana Cantina tacos and burritos on
Lido deck - made fresh, and fast, while you wait - plus
two great bars: one rum-slinging, one tequila-wielding,
both duelling for your heart. That's right: just a quick stroll
from Red-Frog Rum Bar you'll find Blue-Iguana Tequila Bar.
The young and young at heart can splash an slide in the
Coney Island Pool and waterslide while the Seaside Theatre
features outdoor movies. The Tivoli resort pool area is
the heart of the all the outdoor action while the Versailles
Pool area at the back of the ship offers great views and
perfect sail-away vistas. There are a huge number of dining
options too including a steakhouse, the Lido buffet, the Ol'
Fashioned BBQ and Mongolian Wok for superb made to
order stir-frys. Adults can escape to the adults only Serenity
Retreat sunbathing area spread over 2 decks complete with
2 hot tubs and a bar. The spa features separate steam and
saunas in each changing room. A visit to the Alchemy bar
should not be missed - where your cocktails are made to
order or prescribed by white coated lab technicians.
Date Itinerary Interior Oceanview Balcony
24 Aug 17 2 £949 £999 £1079
7 Sep 17 2 £869 £869 £999
28 Sep 17 1 £899 £949 £1039
19 Oct 17 2 £1019 £1079 £1169
23 Nov 17 1 £879 £879 £1019
30 Nov 17 2 £799 £849 £949
28 Dec 17 2 £1399 £1499 £1629
11 Jan 18 2 £869 £869 £999
25 Jan 18 2 £879 £879 £999
8 Feb 18 2 £879 £879 £999
15 Feb 18 1 £939 £939 £1069
22 Feb 18 2 £919 £919 £1049
22 Mar 18 1 £1099 £1099 £1229
29 Mar 18 1 £1459 £1499 £1589
26 Apr 18 1 £889 £889 £999
3 May 18 2 £899 £979 £1049
17 May 18 2 £999 £1049 £1119
24 May 18 1 £999 £1079 £1149
26 Jul 18 2 £1359 £1419 £1489
9 Aug 18 2 £1329 £1399 £1459