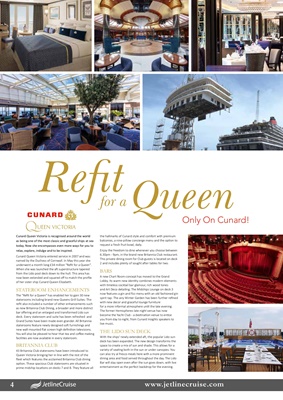 4 Cunard Queen Victoria is recognised around the world
as being one of the most classic and graceful ships at sea
today. Now she encompasses even more ways for you to
relax, explore, indulge and to be inspired.
Cunard Queen Victoria entered service in 2007 and was
named by the Duchess of Cornwall. In May this year she
underwent a month long £34 million "Refit for a Queen".
When she was launched the aft superstructure tapered
from the Lido pool deck down to the hull. This area has
now been extended and squared off to match the profile
of her sister ship Cunard Queen Elizabeth.
STATEROOM ENHANCEMENTS
The "Refit for a Queen" has enabled her to gain 30 new
staterooms including brand new Queens Grill Suites. The
refit also included a number of other enhancements such
as new Britannia Club Dining, a broader and more distinct
bar offering and an enlarged and transformed Lido sun
deck. Every stateroom and suite has been refreshed and
Grand Suites have been made even grander. All Britannia
staterooms feature newly designed soft furnishings and
new wall-mounted flat screen high definition televisions.
You will also be pleased to hear that tea and coffee making
facilities are now available in every stateroom.
BRITANNIA CLUB
43 Britannia Club staterooms have been introduced to
Queen Victoria bringing her in line with the rest of the
fleet which features the acclaimed Britannia Club dining
option. These spacious Club staterooms are situated in
prime midship locations on decks 7 and 8. They feature all
the hallmarks of Cunard style and comfort with premium
balconies, a nine-pillow concierge menu and the option to
request a fresh fruit bowl, daily.
Enjoy the freedom to dine whenever you choose between
6.30pm - 9pm, in the brand new Britannia Club restaurant.
This private dining room for Club guests is located on deck
2 and includes plenty of sought after tables for two.
BARS
A new Chart Room concept has moved to the Grand
Lobby. Its warm new identity combines modern elements
with timeless cocktail bar glamour, rich wood tones
and Art Deco detailing. The Midships Lounge on deck 3
now features a gin and fizz menu with an old fashioned gin
spirit tap. The airy Winter Garden has been further refined
with new decor and graceful lounge furniture
for a more informal atmosphere until the late evening.
The former Hemispheres late night venue has now
become the Yacht Club - a destination venue to entice
you from day to night, from Cunard Insights speakers to
live music.
THE LIDO SUN DECK
With the ships' newly extended aft, the popular Lido sun
deck has been expanded. The new design transforms the
space to create a mix of sun and shade. This allows for a
variety of seating both in the sun or under canopies. You
can also try al fresco meals here with a more prominent
dining area and food served throughout the day. The Lido
Bar will stay open even after the sun goes down, with live
entertainment as the perfect backdrop for the evening.
for a
Only On Cunard!
Refit Queen
4