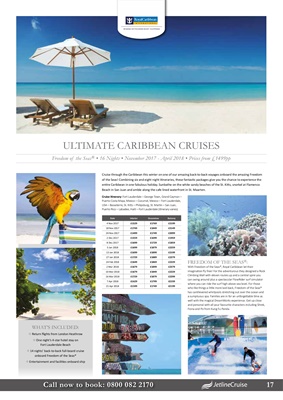 Call now to book: 0800 082 2170 17
Cruise itinerary: Fort Lauderdale - George Town, Grand Cayman -
Puerto Costa Maya, Mexico - Cozumel, Mexico - Fort Lauderdale,
USA - Basseterre, St. Kitts - Philipsburg, St. Martin - San Juan,
Puerto Rico - Labadee, Haiti - Fort Lauderdale (itinerary varies)
WHAT'S INCLUDED:
✥ Return flights from London Heathrow
✥ One night's 4-star hotel stay on
Fort Lauderdale Beach
✥ 14 nights' back-to-back full-board cruise
onboard Freedom of the Seas®
✥ Entertainment and facilities onboard ship
Cruise through the Caribbean this winter on one of our amazing back-to-back voyages onboard the amazing Freedom
of the Seas! Combining six and eight night itineraries, these fantastic packages give you the chance to experience the
entire Caribbean in one fabulous holiday. Sunbathe on the white sandy beaches of the St. Kitts, snorkel at Flamenco
Beach in San Juan and amble along the cafe lined waterfront in St. Maarten.
FREEDOM OF THE SEAS®:
With Freedom of the Seas®, Royal Caribbean let their
imagination fly free! For the adventurous they designed a Rock
Climbing Wall with eleven routes up and a central spire you
can swing around plus a spectacular FlowRider surf simulator
where you can ride the surf high above sea level. For those
who like things a little more laid-back, Freedom of the Seas®
has cantilevered whirlpools stretching out over the ocean and
a sumptuous spa. Families are in for an unforgettable time as
well with the magical DreamWorks experience. Get up close
and personal with all your favourite characters including Shrek,
Fiona and Po from Kung Fu Panda.
ULTIMATE CARIBBEAN CRUISES
Freedom of the Seas® • 16 Nights • November 2017 - April 2018 • Prices from £1499pp
Date Interior Oceanview Balcony
4 Nov 2017 £1529 £1769 £2199
18 Nov 2017 £1749 £1849 £2149
24 Nov 2017 £1499 £1749 £2099
2 Dec 2017 £1559 £1699 £1959
8 Dec 2017 £1699 £1729 £1859
5 Jan 2018 £1699 £1879 £2259
13 Jan 2018 £1699 £1899 £2199
27 Jan 2018 £1729 £1889 £2279
24 Feb 2018 £1649 £1869 £2229
2 Mar 2018 £1679 £1899 £2279
10 Mar 2018 £1679 £1849 £2229
16 Mar 2018 £1729 £1879 £2299
7 Apr 2018 £1629 £1799 £2239
21 Apr 2018 £1599 £1749 £2199