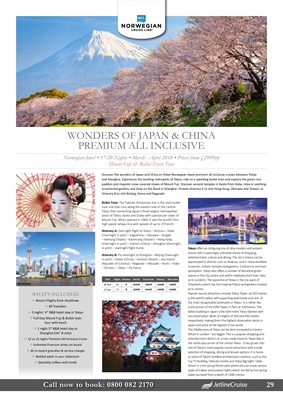 Call now to book: 0800 082 2170 29
Tokyo offers an intriguing mix of ultra modern and ancient
history with a seemingly unlimited choice of shopping,
entertainment, culture and dining. The city's history can be
appreciated in districts such as Asakusa, and in many excellent
museums, historic temples and gardens. Contrary to common
perception, Tokyo also offers a number of attractive green
spaces in the city centre and within relatively short train rides
at its outskirts. The epicentre of Tokyo is the city ward of
Chiyoda Ku which has the Imperial Palace and gardens located
at its centre.
Popular tourist attractions include Tokyo Tower -at 333 metres
is the world's tallest self-supporting steel tower and one of
the most recognisable landmarks in Tokyo. It is rather like
a red version of the Eiffel Tower in Paris at 320metres. The
tallest building in Japan is the 634 metre Tokyo Skytree with
two observation decks at heights of 350 and 450 meters
respectively, making them the highest observation decks in
Japan and some of the highest in the world.
The Odaiba area of Tokyo can be best compared to Canary
Wharf in London - but bigger. This is a popular shopping and
entertainment district on a man-made island in Tokyo Bay in
the south east corner of the central Tokyo . It has grown into
one of Tokyo's most popular tourist attractions with a wide
selection of shopping, dining and leisure options. It is home
to some of Tokyo's boldest architectural creations, such as the
Fuji TV Building, Telecom Centre and Tokyo Big Sight. Oedo
Onsen is a hot spring theme park where you can enjoy various
types of indoor and outdoor baths which are fed by hot spring
water pumped from a depth of 1400 metres.
WONDERS OF JAPAN & CHINA
PREMIUM ALL INCLUSIVE
Norwegian Jewel • 17-20 Nights • March - April 2018 • Prices from £2999pp
Mount Fuji & Bullet Train Tour
WHAT'S INCLUDED:
✥ Return Flights from Heathrow
✥ All Transfers
✥ 3 nights' 4* B&B hotel stay in Tokyo
✥ Full Day Mount Fuji & Bullet train
tour with lunch
✥ 1 night 5* B&B hotel stay in
Shanghai (Itin' B only)
✥ 12 or 15 nights Premium All-Inclusive Cruise
✥ Unlimited Premium drinks on-board
✥ All on-board gratuities & service charges
✥ Bottled water in your stateroom
✥ Speciality coffees with meals
Discover the wonders of Japan and China on these Norwegian Jewel premium all-inclusive cruises between Tokyo
and Shanghai. Experience the bustling metropolis of Tokyo, ride on a speeding bullet train and explore the green rice
paddies and majestic snow covered slopes of Mount Fuji. Discover ancient temples in Kyoto from Kobe, relax in soothing
ornamental gardens and shop on the Bund in Shanghai. Choose itinerary A to visit Hong Kong, Okinawa and Taiwan, or
itinerary B to visit Beijing, Korea and Nagasaki.
Bullet Train: The Tokaido Shinkansen line is the main bullet
train line that runs along the eastern side of the central
Tokyo that connecting Japan's three largest metropolitan
areas of Tokyo, Kyoto and Osaka with spectacular views of
Mount Fuji. When opened in 1964, it was the world's first
high speed railway line with speeds of up to 270 km/h.
Itinerary A: Overnight flight to Tokyo - Shimizu - Kobe
(Overnight in port) - Kagoshma - Okinawa - Ishigaki
- Keelung (Taipei) - Kaoshiung (Taiwan) - Hong Kong
(Overnight in port) - Xiamen (China) - Shanghai (Overnight
in port) - overnight flight home.
Itinerary B: Fly overnight to Shanghai - Beijing (Overnight
in port) - Dalian (China) - Incheon (Seoul) - Jeju Island
(Republic of S.Korea) - Nagasaki - Miyazaki - Kochi - Kobe
- Shimizu - Tokyo - Fly home.
2018 Nights Itinerary Interior Oceanview Balcony Mini Suite
28 Mar 20 A £3399 £3849 £4499 £4999
14 Apr 17 B £2999 £3449 £4099 £4499