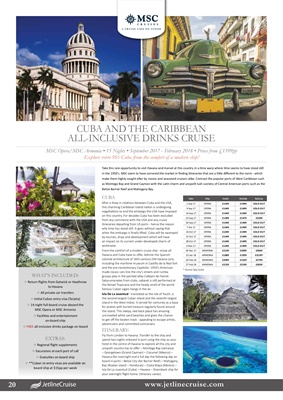 20
CUBA
After a thaw in relations between Cuba and the USA,
this charming Caribbean Island nation is undergoing
negotiations to end the embargo the USA have imposed
on this country. For decades Cuba has been excluded
from any commerce with the USA and any cruise
itineraries departing from US ports - hence the reason
why time has stood still. It goes without saying that
when the embargo is finally lifted, Cuba will be swamped
by tourists, ships and development which will have
an impact on its current under-developed charm of
yesteryear.
From the comfort of a modern cruise ship - enjoy all
Havana and Cuba have to offer. Admire the Spanish
colonial architecture of 16th-century Old Havana core,
including the maritime museum in Castillo de la Real fort
and the pre-revolutionary Capitolio. 1950's Americanmade classic cars
line the city's streets and rumba
groups play in the painted alley Callejón de Hamel.
Salsa emanates from clubs, cabaret is still performed at
the famed Tropicana and the heady smell of the world
famous Cuban cigars hangs in the air.
Isla De La Juventud - translated as the Isle of Youth, is
the second-largest Cuban island and the seventh-largest
island in the West Indies. It served for centuries as a base
for pirates with buried treasure regularly found around
the island. This sleepy, laid-back place has amazing
uncrowded white sand beaches and gives the chance
to get off the beaten track - appealing to escape artists,
adventurers and committed contrarians.
ITINERARY:
Fly from London to Havana. Transfer to the ship and
spend two nights onboard in port using the ship as your
hotel in the centre of Havana to explore all this city and
unspoilt country has to offer - Montego Bay (Jamaica)
- Georgetown (Grand Cayman) - Cozumel (Mexico) -
Havana (for overnight and a full day the following day on
board in port) - Belize City (for Barrier Reef) - Mahogany
Bay (Roatan island - Honduras) - Costa Maya (Mexico) -
Isla De La Juventud (Cuba) - Havana - Disembark ship for
your overnight flight home. (Itinerary varies)
CUBA AND THE CARIBBEAN
ALL-INCLUSIVE DRINKS CRUISE
MSC Opera/MSC Armonia • 15 Nights • September 2017 - February 2018 • Prices from £1399pp
Explore retro 50's Cuba from the comfort of a modern ship!
WHAT'S INCLUDED:
✥ Return flights from Gatwick or Heathrow
to Havana
✥ All private car transfers
✥ Initial Cuban entry visa (Tarjeta)
✥ 14 night full-board cruise aboard the
MSC Opera or MSC Armonia
✥ Facilities and entertainment
on-board ship
✥ FREE all-inclusive drinks package on-board
EXTRAS:
✥ Regional flight supplements
✥ Excursions at each port of call
✥ Gratuities on board ship
✥ **Cuban re-entry visas are available on
board ship at $15pp per week
Take this rare opportunity to visit Havana and marvel at this country in a time warp where time seems to have stood still
in the 1950's. MSC seem to have cornered the market in finding itineraries that are a little different to the norm - which
make them highly sought after by novice and seasoned cruisers alike. Contrast the popular ports of West Caribbean such
as Montego Bay and Grand Cayman with the Latin charm and unspoilt lush scenery of Central American ports such as the
Belize Barrier Reef and Mahogany Bay.
Date Ship Inside Outside Balcony
2 Sep 17 OPERA £1449 £1499 SOLD OUT
9 Sep 17 OPERA £1449 £1499 SOLD OUT
16 Sep 17 OPERA £1449 £1499 SOLD OUT
23 Sep 17 OPERA £1399 £1479 £2289
30 Sep 17 OPERA £1449 £1499 SOLD OUT
7 Oct 17 OPERA £1449 £1499 SOLD OUT
14 Oct 17 OPERA £1449 £1499 SOLD OUT
21 Oct 17 OPERA £1449 £1499 SOLD OUT
28 Oct 17 OPERA £1449 £1499 SOLD OUT
4 Nov 17 OPERA £1449 £1499 SOLD OUT
26 Dec 17 ARMONIA £2139 £2099 £3069
23 Jan 18 ARMONIA £1889 £1939 £3139^
20 Feb 18 ARMONIA £2099 £2169 £2799
27 Feb 18 ARMONIA £2159 £2199 £2839
^ Aurea Spa Suite