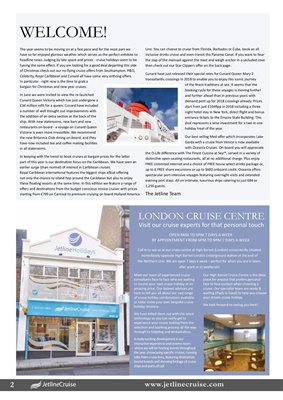 2
Call in to see us at our cruise centre at High Barnet (London) conveniently situated
immediately opposite High Barnet London Underground station at the end of
the Northern Line. We are open 7 days a week - perfect for when you are in town,
after work or at weekends!
Meet our team of experienced cruise
consultants face to face who are waiting
to source your next cruise holiday at an
amazing price. Our trained advisors are
here to tell you all about our vast range
of cruise holiday combinations available
or tailor make your own bespoke cruise
holiday itinerary.
We have kitted them out with the latest
technology so you can really get to
experience your cruise holiday from the
selection and booking process all the way
through to ticketing and embarkation.
A really exciting development is our
interactive experience and cinema room
where we will be hosting events throughout
the year, showcasing specific cruises, running
talks from cruise lines, featuring destination
tourist boards and showing footage of cruise
ships and ports of call.
Our High Barnet Cruise Centre is the ideal
place for anyone that prefers personal
face to face contact when choosing a
cruise. Our specialist team are ready &
waiting (iPads in hand) to help you choose
your dream cruise holiday.
We look forward to seeing you here!
OPEN 9AM TO 6PM 7 DAYS A WEEK
BY APPOINTMENT FROM 6PM TO 9PM 7 DAYS A WEEK
LONDON CRUISE CENTRE
Visit our cruise experts for that personal touch
The year seems to be moving on at a fast pace and for the most part we
have so far enjoyed glorious weather which serves as the perfect antidote to
headline news. Judging by late space and prices - cruise holidays seem to be
having the same effect. If you are looking for a good deal departing this side
of Christmas check out our no flying cruise offers from Southampton. P&O,
Celebrity, Royal Caribbean and Cunard all have some very enticing offers.
In particular - right now is the time to grab a
bargain for Christmas and new year cruises.
In June we were invited to view the re-launched
Cunard Queen Victoria which has just undergone a
£34 million refit for a queen. Cunard have included
a number of well thought out improvements with
the addition of an extra section at the back of the
ship. With new staterooms, new bars and new
restaurants on-board - a voyage on Cunard Queen
Victoria is even more irresistible. We recommend
the new Britannia Club dining on-board; and they
have now included tea and coffee making facilities
in all staterooms.
In keeping with the trend to book cruises at bargain prices for the latter
part of this year is our destination focus on the Caribbean. We have seen an
earlier surge (than normal) of interest in Caribbean cruises.
Royal Caribbean international features the biggest ships afloat offering
not only the chance to island hop around the Caribbean but also to enjoy
these floating resorts at the same time. In this edition we feature a range of
offers and destinations from the budget conscious novice cruiser with prices
starting from £799 on Carnival to premium cruising on board Holland America
Line. You can choose to cruise from Florida, Barbados or Cuba, book an all
inclusive drinks cruise and even transit the Panama Canal. If you want to hear
the slap of the mainsail against the mast and weigh anchor in a secluded cove
then check out our Star Clippers offer on the back page.
Cunard have just released their special rates for Cunard Queen Mary 2
transatlantic crossings in 2018 to enable you to enjoy this iconic journey
of the finest traditions at sea. It seems that the
booking cycle for these voyages is moving further
and further ahead than in previous years with
demand pent up for 2018 crossings already. Prices
start from just £1049pp in 2018 including a three
night hotel stay in New York, direct flight and bonus
entrance tickets to the Empire State Building. This
deal represents a wise investment for a two in one
holiday treat of the year.
Our best selling Med offer which incorporates Lake
Garda with a cruise from Venice is now available
with Oceania Cruises. On-board you will appreciate
the O-Life difference with The Finest Cuisine at Sea™, served in a variety of
distinctive open-seating restaurants, all at no additional charge. Plus enjoy
FREE Unlimited internet and a choice of FREE house select drinks package or,
up to 6 FREE shore excursions or up to $600 onboard credit. Oceania offers
spectacular port-intensive voyages featuring overnight visits and extended
evening port stays. All on Intimate, luxurious ships catering to just 684 or
1,250 guests.
The Jetline Team
WELCOME!