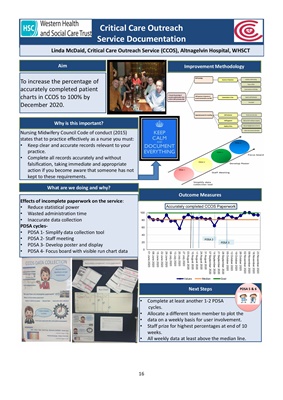 16
Shared Haemodialysis Care
Project Lead: Claire Bartram, Deputy Sister, Renal Unit, Antrim Hospital,
Northern Health and Social Care Trust
• Promotes patient centred care.
• Increases knowledge and understanding.
• In-centre support from staff.
• Provides another treatment choice.
• Empowers the patient (gives back control).
• Reduces anxiety and frustration for patients
waiting to go on HD.
• Between February 2020 and October 2020
there was a 14% increase of patients
participating in Shared Care in Antrim Renal
Unit.
• Plans for the future include:
• Protocol development
• Staff and patient training days via zoom
• Shared care newsletter quarterly
• Patient led focus group.
What is Shared Haemodialysis Care ?
Conclusion
AIM: To increase the uptake of Shared
Care in Antrim Renal Unit by 10% by
December 2020.
Staff Education
Patient Education
Competency Booklets
Staff resource folder
Information board in foyer
Champions identified
Multidisciplinary Team shared care meetings
Information leaflets
Patient and staff surveys
Cohort patients in bays
Changes that Led to Improvement
Benefits of Shared Care
BACKGROUND
Traditional in-centre Haemodialysis(HD) care creates
the disempowered or the "passive patient". Research
shows people who self-manage their chronic diseases
have more positive outcomes. Shared care started in
Antrim Renal Unit June 2019 with two patients.
INSERT
photo/
picture
Handwashing
Weight, BP,
Temp Engaging
patients in
their own
treatment
Set up
machine
Set up dressing pack
Programming
machine Insert needles/
connect lines
Commence
HD
Respond to
machine
alarms
Complete HD /
disconnect lines
Applying pressure/
plasters to needle
sites
Administer
injections
Access patient
view
Outcome measures