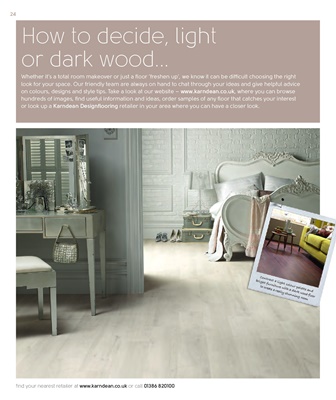 24
How to decide, light
or dark wood...
Whether it's a total room makeover or just a floor 'freshen up', we know it can be difficult choosing the right
look for your space. Our friendly team are always on hand to chat through your ideas and give helpful advice
on colours, designs and style tips. Take a look at our website – www.karndean.co.uk, where you can browse
hundreds of images, find useful information and ideas, order samples of any floor that catches your interest
or look up a Karndean Designflooring retailer in your area where you can have a closer look.
Con
brigh trast a li
t fur ght c
to cre niture wi olour pale
ate a t t
really h a dark te and
stun w
ning ood floor
room
find your nearest retailer at www.karndean.co.uk or call 01386 820100