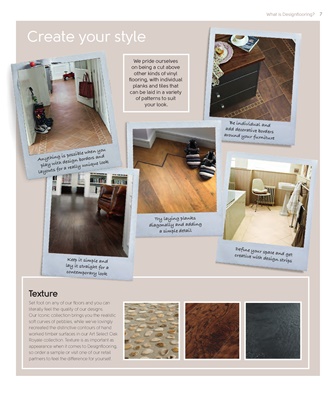 What is Designflooring? 7
Create your style
We pride ourselves
on being a cut above
other kinds of vinyl
flooring, with individual
planks and tiles that
can be laid in a variety
of patterns to suit
your look.
Be individual an
d
add decorative bo
rders
around your furn
iture
u
when yo
possible
An ything is ign borders and
h des ue look
play wit lly uniq
for a rea
layouts
Try laying planks
diagonally and adding
a simple detail
Define your
space and g
creative wit et
Keep it simple and h design st
rips
lay it straight for a
contemporary look
Texture
Set foot on any of our floors and you can
literally feel the quality of our designs.
Our Iconic collection brings you the realistic
soft curves of pebbles, while we've lovingly
recreated the distinctive contours of hand
worked timber surfaces in our Art Select Oak
Royale collection. Texture is as important as
appearance when it comes to Designflooring,
so order a sample or visit one of our retail
partners to feel the difference for yourself.