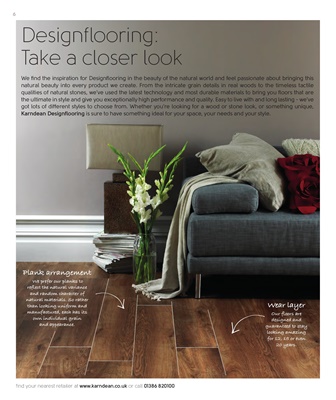 6
Designflooring:
Take a closer look
We find the inspiration for Designflooring in the beauty of the natural world and feel passionate about bringing this
natural beauty into every product we create. From the intricate grain details in real woods to the timeless tactile
qualities of natural stones, we've used the latest technology and most durable materials to bring you floors that are
the ultimate in style and give you exceptionally high performance and quality. Easy to live with and long lasting - we've
got lots of different styles to choose from. Whether you're looking for a wood or stone look, or something unique,
Karndean Designflooring is sure to have something ideal for your space, your needs and your style.
Plank arrangement
We prefer our planks to
reflect the natural variance
and random character of
natural materials. So rather
than looking uniform and Wear layer
manufactured, each has its Our floors are
own individual grain designed and
and appearance. guaranteed to stay
looking amazing
for 12, 15 or even
20 years.
find your nearest retailer at www.karndean.co.uk or call 01386 820100