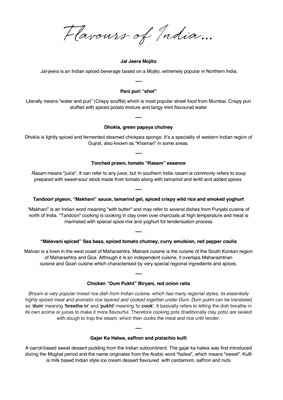 Flavours of India…
Jal Jeera Mojito
Jal-jeera is an Indian spiced beverage based on a Mojito, extremely popular in Northern India.
----
Pani puri "shot"
Literally means "water and puri" (Crispy soufflé) which is most popular street food from Mumbai. Crispy puri
stuffed with spiced potato mixture and tangy mint flavoured water
----
Dhokla, green papaya chutney
Dhokla is lightly spiced and fermented steamed chickpea sponge. It's a speciality of western Indian region of
Gujrat, also known as "Khaman" in some areas.
----
Torched prawn, tomato "Rasam" essence
Rasam means "juice". It can refer to any juice, but In southern India rasam is commonly refers to soup
prepared with sweet-sour stock made from tomato along with tamarind and lentil and added spices
----
Tandoori pigeon, "Makhani" sauce, tamarind gel, spiced crispy wild rice and smoked yoghurt
"Makhani" is an Indian word meaning "with butter" and may refer to several dishes from Punjabi cuisine of
north of India. "Tandoori" cooking is cooking in clay oven over charcoals at high temperature and meat is
marinated with special spice mix and yoghurt for tenderisation process
----
"Malavani spiced" Sea bass, spiced tomato chutney, curry emulsion, red pepper coulis
Malvan is a town in the west coast of Maharashtra. Malvani cuisine is the cuisine of the South Konkan region
of Maharashtra and Goa. Although it is an independent cuisine, it overlaps Maharashtrian
cuisine and Goan cuisine which characterised by very special regional ingredients and spices.
----
Chicken "Dum Pukht" Biryani, red onion raita
Biryani is very popular mixed rice dish from Indian cuisine, which has many regional styles, its essentially
highly spiced meat and aromatic rice layered and cooked together under Dum. Dum pukht can be translated
as 'dum' meaning 'breathe in' and 'pukht' meaning 'to cook'. It basically refers to letting the dish breathe in
its own aroma or juices to make it more flavourful. Therefore cooking pots (traditionally clay pots) are sealed
with dough to trap the steam, which then cooks the meat and rice until tender.
----
Gajar Ka Halwa, saffron and pistachio kulfi
A carrot-based sweet dessert pudding from the Indian subcontinent. The gajar ka halwa was first introduced
during the Mughal period and the name originates from the Arabic word "halwa", which means "sweet". Kulfi
is milk based Indian style ice cream dessert flavoured with cardamom, saffron and nuts