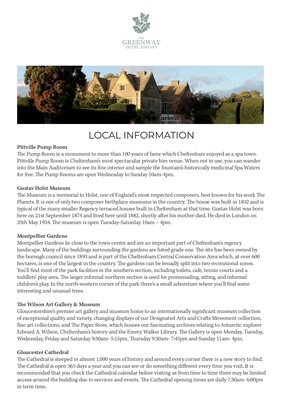 LOCAL INFORMATION
Pittville Pump Room
The Pump Room is a monument to more than 100 years of fame which Cheltenham enjoyed as a spa town.
Pittville Pump Room is Cheltenham's most spectacular private hire venue. When not in use, you can wander
into the Main Auditorium to see its fine interior and sample the fountain's historically medicinal Spa Waters
for free. The Pump Rooms are open Wednesday to Sunday 10am-4pm.
Gustav Holst Museum
The Museum is a memorial to Holst, one of England's most respected composers, best known for his work The
Planets. It is one of only two composer birthplace museums in the country. The house was built in 1832 and is
typical of the many smaller Regency terraced houses built in Cheltenham at that time. Gustav Holst was born
here on 21st September 1874 and lived here until 1882, shortly after his mother died. He died in London on
25th May 1934. The museum is open Tuesday-Saturday 10am - 4pm.
Montpellier Gardens
Montpellier Gardens lie close to the town centre and are an important part of Cheltenham's regency lanDscape.
Many of the buildings surrounding the gardens are listed grade one. The site has been owned by the
borough council since 1893 and is part of the Cheltenham Central Conservation Area which, at over 600 hectares,
is one of the largest in the country. The gardens can be broadly split into two recreational zones. You'll
find most of the park facilities in the southern section, including toilets, cafe, tennis courts and a toddlers' play
area. The larger informal northern section is used for promenading, sitting, and informal children's play. In the
north-western corner of the park there's a small arboretum where you'll find some interesting and unusual
trees.
The Wilson Art Gallery & Museum
Gloucestershire's premier art gallery and museum home to an internationally significant museum collection
of exceptional quality and variety, changing displays of our Designated Arts and Crafts Movement collection,
fine art collections, and The Paper Store, which houses our fascinating archives relating to Antarctic explorer
Edward A. Wilson, Cheltenham's history and the Emery Walker Library. The Gallery is open Monday, Tuesday,
Wednesday, Friday and Saturday 9:30am- 5:15pm, Thursday 9:30am- 7:45pm and Sunday 11am- 4pm.
Gloucester Cathedral
The Cathedral is steeped in almost 1,000 years of history and around every corner there is a new story to find.
The Cathedral is open 365 days a year and you can see or do something different every time you visit. It is recommended
that you check the Cathedral calendar before visiting as from time to time there may be limited
access around the building due to services and events. The Cathedral opening times are daily 7:30am- 6:00pm
in term time.