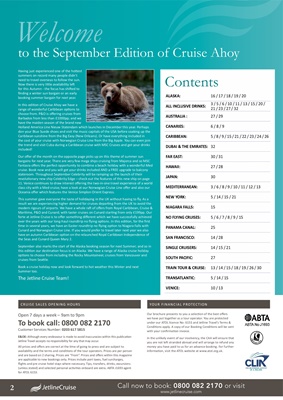 Open 7 days a week - 9am to 9pm
To book call: 0800 082 2170
Customer Services Number: 0203 617 5815
E&OE: Although every endeavour is made to avoid inaccuracies within this publication
Jetline Travel accepts no responsibility for any that may occur.
All prices and offers are correct at the time of going to press and are subject to
availability and the terms and conditions of the tour operators. Prices are per person
and are based on 2 sharing. Prices are "From". Prices and offers within this magazine
are applicable to new bookings only. Prices include port taxes, fuel surcharges,
flights and pre cruise hotel stays where necessary. Tips, transfers, drinks, excursions
(unless stated) and selected personal activities onboard are extra. ABTA J1693 agent
for ATOL 6153.
CRUISE SALES OPENING HOURS
Our brochure presents to you a selection of the best offers
we have put together as a tour operator. You are protected
under our ATOL licence No: 6153 and Jetline Travel's Terms &
Conditions apply. A copy of our Booking Conditions will be sent
with your confirmation invoice.
In the unlikely event of our insolvency, the CAA will ensure that
you are not left stranded abroad and will arrange to refund any
money you have paid to us for an advance booking. For further
information, visit the ATOL website at www.atol.org.uk.
YOUR FINANCIAL PROTECTION
ALASKA: 16 / 17 / 18 / 19 / 20
ALL INCLUSIVE DRINKS:
3 / 5 / 6 / 10 / 11 / 13 / 15 / 20 /
21 / 23 / 27 / 32
AUSTRALIA : 27 / 29
CANARIES: 6 / 8 / 9
CARIBBEAN: 5 / 8 / 9 / 15 / 21 / 22 / 23 / 24 / 26
DUBAI & THE EMIRATES: 32
FAR EAST: 30 / 31
HAWAII: 27 / 28
JAPAN: 30
MEDITERRANEAN: 3 / 6 / 8 / 9 / 10 / 11 / 12 / 13
NEW YORK: 5 / 14 / 15 / 21
NIAGARA FALLS: 15
NO FLYING CRUISES: 5 / 6 / 7 / 8 / 9 / 15
PANAMA CANAL: 25
SAN FRANCISCO: 14 / 28
SINGLE CRUISERS: 14 / 15 / 21
SOUTH PACIFIC: 27
TRAIN TOUR & CRUISE: 13 / 14 / 15 / 18 / 19 / 26 / 30
TRANSATLANTIC: 5 / 14 / 15
VENICE: 10 / 13
Contents
Having just experienced one of the hottest
summers on record many people didn't
need to travel overseas to follow the sun.
Now there is very little availability left
for this Autumn - the focus has shifted to
finding a winter sun bargain or an early
booking summer bargain for next year.
In this edition of Cruise Ahoy we have a
range of wonderful Caribbean options to
choose from. P&O is offering cruises from
Barbados from less than £1000pp; and we
have the maiden season of the brand new
Holland America Line Nieuw Statendam which launches in December this year. Perhaps
don your Blue Suede shoes and visit the music capitals of the USA before soaking up the
Caribbean sunshine from the Big Easy (New Orleans). Or have everything included in
the cost of your cruise with Norwegian Cruise Line from the Big Apple. You can even join
the trend and visit Cuba during a Caribbean cruise with MSC Cruises and get your drinks
included!
Our offer of the month on the opposite page picks up on this theme of summer sun
bargains for next year. There are very few mega ships cruising from Majorca and so MSC
Fantasia offers the perfect opportunity to combine a beach holiday with a wonderful Med
cruise. Book now and you will get your drinks included AND a FREE upgrade to balcony
stateroom. Throughout September Celebrity will be ramping up the launch of their
revolutionary new ship Celebrity Edge - check out the features of this new ship on page
11. Venice continues to draw interest offering the two-in-one travel experience of a world
class city with a Med cruise; have a look at our Norwegian Cruise Line offer and also our
Oceania offer which features the Venice Simplon Orient Express.
This summer gave everyone the taste of holidaying in the UK without having to fly. As a
result we are experiencing higher demand for cruises departing from the UK to avoid the
modern rigours of airports. We have a whole raft of offers from Royal Caribbean, Cruise &
Maritime, P&O and Cunard; with taster cruises on Cunard starting from only £199pp. Our
forte at Jetline Cruise is to offer something different which we have successfully achieved
over the years with our long-haul roundtrip no flying options. In this edition, for the first
time in several years, we have an Easter roundtrip no flying option to Niagara Falls with
Cunard and Norwegian Cruise Line. If you would prefer to travel later next year we also
have an autumn Caribbean option on the relaunched Royal Caribbean Independence of
the Seas and Cunard Queen Mary 2.
September also marks the start of the Alaska booking season for next Summer; and so in
this edition our destination focus is on Alaska. We have a range of Alaska cruise holiday
options to choose from including the Rocky Mountaineer, cruises from Vancouver and
cruises from Seattle.
Book a cruise holiday now and look forward to hot weather this Winter and next
Summer too.
The Jetline Cruise Team!
Welcometo the September Edition of Cruise Ahoy
2 Call now to book: 0800 082 2170 or visit