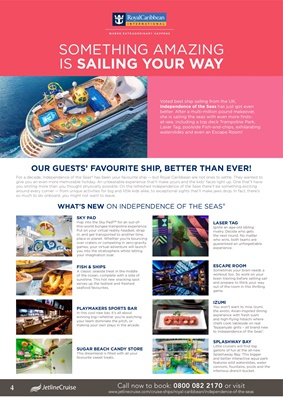 SOMETHING AMAZING
IS SAILING YOUR WAY
Voted best ship sailing from the UK,
Independence of the Seas has just got even
better. After a multi-million pound makeover,
she is sailing the seas with even more firstsat-sea,
including a top deck Trampoline Park,
Laser Tag, poolside Fish-and-chips, exhilarating
waterslides and even an Escape Room!
OUR GUESTS' FAVOURITE SHIP, BETTER THAN EVER!
For a decade, Independence of the Seas® has been your favourite ship - but Royal Caribbean are not ones to settle. They wanted to
give you an even more memorable holiday. An unbeatable experience that'll make yours and the kids' faces light up. One that'll have
you smiling more than you thought physically possible. On the refreshed Independence of the Seas there'll be something exciting
around every corner - from unique activities for big and little kids alike, to exceptional sights that'll make jaws drop. In fact, there's
so much to do onboard, you might not want to leave.
WHAT'S NEW ON INDEPENDENCE OF THE SEAS®
FISH & SHIPS
A classic seaside treat in the middle
of the ocean, complete with a side of
sunshine. This hot new snacking spot
serves up the tastiest and freshest
seafood favourites.
PLAYMAKERS SPORTS BAR
In this cool new bar, it's all about
winning big-whether you're watching
your team dominate the pitch, or
making your own plays in the arcade.
SUGAR BEACH CANDY STORE
This dreamland is filled with all your
favourite sweet treats.
LASER TAG
Ignite an age-old sibling
rivalry. Decide who gets
the next round. No matter
who wins, both teams are
guaranteed an unforgettable
experience.
ESCAPE ROOM
Sometimes your brain needs a
workout too. So work on your
brain training before setting sail
and prepare to think your way
out of the room in this thrilling
game.
IZUMI
You won't want to miss Izumi,
the exotic Asian-inspired dining
experience with fresh sushi
and high-flying hibachi where
chefs cook tableside on real
Teppanyaki grills - all brand new
to Independence of the Seas®.
SPLASHWAY BAY
Little cruisers will find big
gallons of fun at the all-new
Splashaway Bay. This bigger
and better interactive aqua park
features wild waterslides, water
cannons, fountains, pools and the
infamous drench bucket.
SKY PAD
Hop into the Sky PadSM for an out-ofthis-world
bungee trampoline experience.
Put on your virtual reality headset, strap
in, and get transported to another time,
place or planet. Whether you're bouncing
over craters or competing in zero-gravity
games, your virtual adventure will launch
you into the stratosphere whilst letting
your imagination soar.
4 Call now to book: 0800 082 2170 or visit
www.jetlinecruise.com/cruise-ships/royal-caribbean/independence-of-the-seas