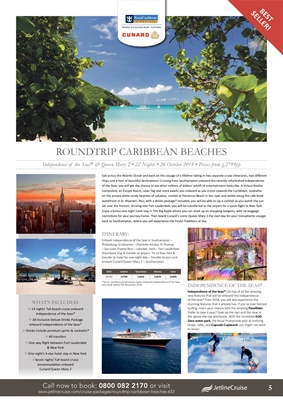 WHAT'S INCLUDED:
✥ 14 nights' full-board cruise onboard
Independence of the Seas®
✥ All-Inclusive Deluxe Drinks Package
onboard Independence of the Seas*
✥ Drinks include premium spirits & cocktails!*
✥ All transfers
✥ One way flight between Fort Lauderdale
& New York
✥ One night's 4-star hotel stay in New York
✥Seven nights' full-board cruise
accommodation onboard
Cunard Queen Mary 2
Sail across the Atlantic Ocean and back on this voyage of a lifetime taking in two separate cruise itineraries, two different
ships and a host of beautiful destinations! Cruising from Southampton onboard the recently refurbished Independence
of the Seas, you will get the chance to see what millions of dollars' worth of entertainment looks like. A Virtual Reality
trampoline, an Escape Room, Laser Tag and more awaits you onboard as you cruise towards the Caribbean. Sunbathe
on the private white sandy beaches of Labadee, snorkel at Flamenco Beach in San Juan and amble along the cafe lined
waterfront in St. Maarten. Plus, with a drinks package* included, you will be able to sip a cocktail as you watch the sun
set over the horizon. Arriving into Fort Lauderdale, you will be transferred to the airport for a quick flight to New York.
Enjoy a bonus one night hotel stay in The Big Apple where you can stock up on shopping bargains, with no baggage
restrictions for your journey home. Then board Cunard's iconic Queen Mary 2 the next day for your transatlantic voyage
back to Southampton, where you will experience the Finest Traditions at Sea.
ROUNDTRIP CARIBBEAN BEACHES
Independence of the Seas® & Queen Mary 2 • 22 Nights • 26 October 2019 • Prices from £2799pp
2019 Interior Oceanview Balcony Suite
26 Oct £2799 £3529 £3879 £6399
*Terms, conditions & limitations apply. Onboard Independence of the Seas
only. Book before 5th November 2018.
ITINERARY:
Embark Independence of the Seas in Southampton -
Philipsburg, St.Maarten - Charlotte Amalie, St.Thomas
- San Juan, Puerto Rico - Labadee, Haiti - Fort Lauderdale.
Disembark ship & transfer to airport. Fly to New York &
transfer to hotel for overnight stay - Transfer to port and
embark Cunard Queen Mary 2 - Southampton
BEST
SELLER!
INDEPENDENCE OF THE SEAS®
Independence of the Seas®: On top of all the amazing
new features that will be onboard the Independence
of the Seas® from 2018, you will also experience the
stunning features that it already has. If you've ever fancied
surfing, now's your chance with the amazing FlowRider.
Prefer to take it easy? Soak up the rays and the view in
the above-the-sea whirlpools. With the incredible H2O
Zone water park, the Royal Promenade with its enticing
shops, cafes, and Cupcake Cupboard, you might not want
to leave!
5
Call now to book: 0800 082 2170 or visit
www.jetlinecruise.com/cruise-packages/roundtrip-caribbean-beaches-633