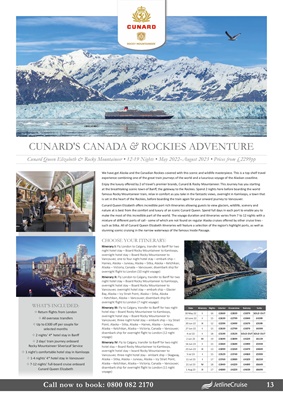 Call now to book: 0800 082 2170 13
WHAT'S INCLUDED:
✥ Return flights from London
✥ All overseas transfers
✥ Up to £300 off per couple for
selected months
✥ 2 nights' 4* hotel stay in Banff
✥ 2 days' train journey onboard
Rocky Mountaineer SilverLeaf Service
✥ 1 night's comfortable hotel stay in Kamloops
✥ 1-4 nights' 4* hotel stay in Vancouver
✥ 7-12 nights' full-board cruise onboard
Cunard Queen Elizabeth
We have got Alaska and the Canadian Rockies covered with this scenic and wildlife masterpiece. This is a top shelf travel
experience combining one of the great train journeys of the world and a luxurious voyage of the Alaskan coastline.
Enjoy the luxury offered by 2 of travel's premier brands, Cunard & Rocky Mountaineer. This Journey has you starting
at the breathtaking scenic town of Banff, the gateway to the Rockies. Spend 2 nights here before boarding the world
famous Rocky Mountaineer train, relax in comfort as you take in the fantastic views, overnight in Kamloops, a town that
is set in the heart of the Rockies, before boarding the train again for your onward journey to Vancouver.
Cunard Queen Elizabeth offers incredible port rich itineraries allowing guests to view glaciers, wildlife, scenery and
nature at is best from the comfort and luxury of an iconic Cunard Queen. Spend full days in each port to enable you to
make the most of this incredible part of the world. The voyage duration and itineraries varies from 7 to 12 nights with a
mixture of different ports of call - some of which are not found on regular Alaska cruises offered by other cruise lines -
such as Sitka. All of Cunard Queen Elizabeth itineraries will feature a selection of the region's highlight ports, as well as
stunning scenic cruising in the narrow waterways of the famous Inside Passage.
CUNARD'S CANADA & ROCKIES ADVENTURE
Cunard Queen Elizabeth & Rocky Mountaineer • 12-19 Nights • May 2022-August 2023 • Prices from £2299pp
Date Itinerary Nights Interior Oceanview Balcony Suite
30 May 22 I 16 £2669 £2839 £3079 SOLD OUT
10 June 22 I 15 £2639 £2799 £3049 £4399
20 Jun 22 II 12 £2299 £2499 £2679 £3599
27 Jun 22 I 15 £2639 £2799 £3079 £4399
4 Jul 22 I 18 £3199 £3529 SOLD OUT SOLD OUT
2 Jun 23 III 19 £3699 £3899 £4229 £6139
16 Jun 23 I 15 £3469 £3689 £3999 £5939
23 Jun 23 II 13 £3099 £3269 £3479 £4849
3 Jul 23 I 15 £3529 £3749 £4069 £5999
11 Jul 23 I 17 £3769 £3989 £4329 £6259
21 Jul 23 IV 18 £3949 £4229 £4499 £6649
1 Aug 23 II 17 £4089 £4229 £4659 £6699
CHOOSE YOUR ITINERARY:
Itinerary I: Fly London to Calgary, transfer to Banff for two
night hotel stay - Board Rocky Mountaineer to Kamloops,
overnight hotel stay - Board Rocky Mountaineer to
Vancouver, one to four night hotel stay - embark ship -
Haines, Alaska - Juneau, Alaska - Sitka, Alaska - Ketchikan,
Alaska - Victoria, Canada - Vancouver, disembark ship for
overnight flight to London (10 night voyage)
Itinerary II: Fly London to Calgary, transfer to Banff for two
night hotel stay - Board Rocky Mountaineer to Kamloops,
overnight hotel stay - Board Rocky Mountaineer to
Vancouver, overnight hotel stay - embark ship - Glacier
Bay, Alaska - Icy Strait Point, Alaska - Sitka, Alaska
- Ketchikan, Alaska - Vancouver, disembark ship for
overnight flight to London (7 night voyage)
Itinerary III: Fly to Calgary, transfer to Banff for two night
hotel stay - Board Rocky Mountaineer to Kamloops,
overnight hotel stay - Board Rocky Mountaineer to
Vancouver, three night hotel stay - embark ship - Icy Strait
Point, Alaska - Sitka, Alaska - Haines, Alaska - Juneau,
Alaska - Ketchikan, Alaska - Victoria, Canada - Vancouver,
disembark ship for overnight flight to London (12 night
voyage)
Itinerary IV: Fly to Calgary, transfer to Banff for two night
hotel stay - Board Rocky Mountaineer to Kamloops,
overnight hotel stay - board Rocky Mountaineer to
Vancouver, three night hotel stay - embark ship - Skagway,
Alaska - Sitka, Alaska - Juneau, Alaska - Icy Strait Point,
Alaska - Ketchikan, Alaska - Victoria, Canada - Vancouver,
disembark ship for overnight flight to London (11 night
voyage)