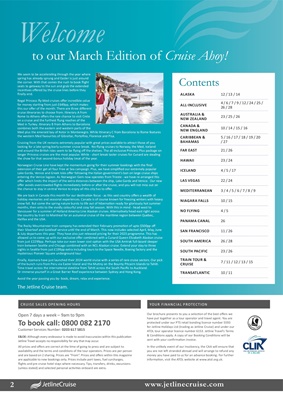 2 Open 7 days a week - 9am to 9pm
To book call: 0800 082 2170
Customer Services Number: 0203 617 5815
E&OE: Although every endeavour is made to avoid inaccuracies within this publication
Jetline Travel accepts no responsibility for any that may occur.
All prices and offers are correct at the time of going to press and are subject to
availability and the terms and conditions of the tour operators. Prices are per person
and are based on 2 sharing. Prices are "From". Prices and offers within this magazine
are applicable to new bookings only. Prices include port taxes, fuel surcharges,
flights and pre cruise hotel stays where necessary. Tips, transfers, drinks, excursions
(unless stated) and selected personal activities onboard are extra.
CRUISE SALES OPENING HOURS
Our brochure presents to you a selection of the best offers we
have put together as a tour operator and travel agent. You are
protected under our PTS retail bonding licence number 5593
for Jetline Holidays Ltd (trading as Jetline Cruise) and under our
ATOL tour operator licence number 6153. Jetline Travel's Terms
& Conditions apply. A copy of our Booking Conditions will be
sent with your confirmation invoice.
In the unlikely event of our insolvency, the CAA will ensure that
you are not left stranded abroad and will arrange to refund any
money you have paid to us for an advance booking. For further
information, visit the ATOL website at www.atol.org.uk.
YOUR FINANCIAL PROTECTION
We seem to be accelerating through the year where
spring has already sprung and Easter is just around
the corner. With that comes the rush to book flight
seats to getaway to the sun and grab the extended
incentives offered by the cruise lines before they
finally end.
Regal Princess fly-Med cruises offer incredible value
for money starting from just £649pp, which makes
this our offer of the month. There are three different
cruise itineraries to choose from. Itinerary A from
Rome to Athens offers the rare chance to visit Crete
on a cruise and the furthest flung reaches of the
Med in Turkey. Itinerary B from Athens to Barcelona
combines both the eastern and western parts of the
Med plus the emerald bay of Kotor in Montenegro. While Itinerary C from Barcelona to Rome features
the western Med favourites of Gibraltar, Portofino, Florence and Pisa.
Cruising from the UK remains extremely popular with great prices available to attract those of you
looking for a late spring/early summer cruise break. No-flying cruises to Norway, the Med, Iceland
and around the British Isles seem to be flying off the shelves. The all-inclusive Princess Plus package on
longer Princess cruises are the most popular. While - short break taster cruises for Cunard are stealing
the show for that second-bonus holiday treat of the year.
Norwegian Cruise Line have kept the momentum going for their summer bookings with the final
extension of their get all four Free at Sea campaign. Plus, we have simplified our extremely popular
Lake Garda, Venice and Greek Isles offer following the Italian government's ban on large cruise ships
entering the Venice lagoon. As Norwegian Gem now operates from Trieste - we have re-arranged this
offer which limits the impact of the extra distances between the ship, Lake Garda and Venice. Our new
offer avoids overcrowded flights immediately before or after the cruise; and you will not miss out on
the chance to stay in central Venice to enjoy all this city has to offer.
We are back in Canada this month for our destination focus - as this vast country offers a wealth of
holiday memories and seasonal experiences. Canada is of course known for freezing winters with heavy
snow fall. But come the spring nature bursts to life out of hibernation ready for gloriously hot summer
months, then onto to the vividly colourful and cosy fall season. With this in mind - head west to
Vancouver for a summer of Holland America Line Alaskan cruises. Alternatively head east right across
the country by train to Montreal for an autumnal cruise of the maritime region between Quebec,
Halifax and the USA.
The Rocky Mountaineer train company has extended their February promotion of upto $500pp off
their Silverleaf and Goldleaf service until the end of March. This now includes selected April, May, June
& July departures this year. They have also just released pricing for their 2023 programme. This has
allowed us to come up with our exclusive offer combined with a Cunard Queen Elizabeth Alaskan cruise
from just £2299pp. Perhaps take our even lower cost option with the USA Amtrak full-board sleeper
train between Seattle and Chicago combined with an NCL Alaskan cruise. Extend your stay to three
nights in Seattle from just £199pp extra including tours to the Space Needle, Boeing factory and the
mysterious Pioneer Square underground tour.
Finally, Azamara have just launched their 2024 world cruise with a series of rare cruise sectors. Our pick
of the bunch runs from Peru via Easter Island and the Mutiny on the Bounty Pitcairn Islands to Tahiti.
Time travel across the international dateline from Tahiti across the South Pacific to Auckland.
Or immerse yourself in a Great Barrier Reef experience between Sydney and Hong Kong.
Avoid the year passing you by- book, dream, relax and experience.
The Jetline Cruise team.
to our March Edition of Cruise Ahoy!
Welcome
ALASKA 12 / 13 / 14
ALL-INCLUSIVE
4 / 6 / 7 / 9 / 12 / 24 / 25 /
26 / 28
AUSTRALIA &
NEW ZEALAND
23 / 25 / 26
CANADA &
NEW ENGLAND
10 / 14 / 15 / 16
CARIBBEAN &
BAHAMAS
5 / 16 / 17 / 18 / 19 / 20
/ 27
FAR EAST 21 / 26
HAWAII 23 / 24
ICELAND 4 / 5 / 17
LAS VEGAS 22 / 24
MEDITERRANEAN 3 / 4 / 5 / 6 / 7 / 8 / 9
NIAGARA FALLS 10 / 15
NO FLYING 4 / 5
PANAMA CANAL 26
SAN FRANCISCO 11 / 26
SOUTH AMERICA 26 / 28
SOUTH PACIFIC 23 / 26
TRAIN TOUR &
CRUISE
7 / 11 / 12 / 13 / 15
TRANSATLANTIC 10 / 11
Contents