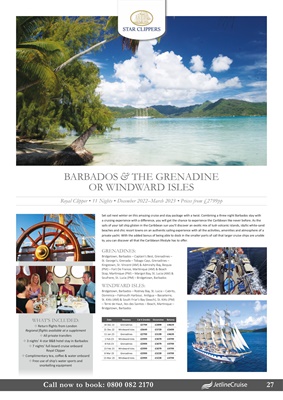 Call now to book: 0800 082 2170 27
BARBADOS & THE GRENADINE
OR WINDWARD ISLES
Royal Clipper • 11 Nights • December 2022-March 2023 • Prices from £2799pp
WHAT'S INCLUDED:
✥ Return flights from London
Regional flights available at a supplement
✥ All private transfers
✥ 3 nights' 4-star B&B hotel stay in Barbados
✥ 7 nights' full-board cruise onboard
Royal Clipper
✥ Complimentary tea, coffee & water onboard
✥ Free use of ship's water sports and
snorkelling equipment
Set sail next winter on this amazing cruise and stay package with a twist. Combining a three night Barbados stay with
a cruising experience with a difference, you will get the chance to experience the Caribbean like never before. As the
sails of your tall ship glisten in the Caribbean sun you'll discover an exotic mix of lush volcanic islands, idyllic white-sand
beaches and chic resort towns on an authentic sailing experience with all the activities, amenities and atmosphere of a
private yacht. With the added bonus of being able to dock in the smaller ports of call that larger cruise ships are unable
to, you can discover all that the Caribbean lifestyle has to offer.
GRENADINES:
Bridgetown, Barbados - Captain's Best, Grenadines -
St. George's, Grenada - Tobago Cays, Grenadines -
Kingstown, St. Vincent (AM) & Admiralty Bay, Bequia
(PM) - Fort De France, Martinique (AM) & Beach
Stop, Martinique (PM) - Marigot Bay, St. Lucia (AM) &
Soufriere, St. Lucia (PM) - Bridgetown, Barbados
WINDWARD ISLES:
Bridgetown, Barbados - Rodney Bay, St. Lucia - Cabrits,
Dominica - Falmouth Harbour, Antigua - Basseterre,
St. Kitts (AM) & South Friar's Bay (beach), St. Kitts (PM)
- Terre de Haut, Iles des Saintes - Beach, Martinique -
Bridgetown, Barbados
Date Itinerary Cat 6 (Inside) Oceanview Balcony
14 Dec 22 Grenadines £2799 £2899 £4629
21 Dec 22 Windward Isles £3649 £3729 £5499
11 Jan 23 Grenadines £2799 £3199 £4639
1 Feb 23 Windward Isles £2999 £3079 £4799
8 Feb 23 Grenadines £2999 £3079 £4799
15 Feb 23 Windward Isles £2999 £3079 £4799
8 Mar 23 Grenadines £2999 £3239 £4799
15 Mar 23 Windward Isles £2999 £3239 £4799