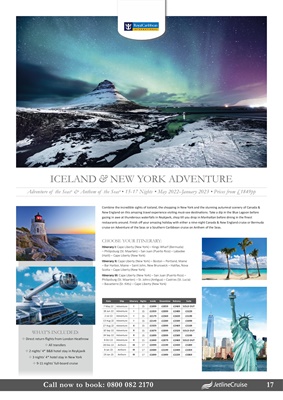 Call now to book: 0800 082 2170 17
WHAT'S INCLUDED:
✥ Direct return flights from London Heathrow
✥ All transfers
✥ 2 nights' 4* B&B hotel stay in Reykjavik
✥ 3 nights' 4* hotel stay in New York
✥ 9-11 nights' full-board cruise
Combine the incredible sights of Iceland, the shopping in New York and the stunning autumnal scenery of Canada &
New England on this amazing travel experience visiting must-see destinations. Take a dip in the Blue Lagoon before
gazing in awe at thunderous waterfalls in Reykjavik, shop till you drop in Manhattan before dining in the finest
restaurants around. Finish off your amazing holiday with either a nine-night Canada & New England cruise or Bermuda
cruise on Adventure of the Seas or a Southern Caribbean cruise on Anthem of the Seas.
Date Ship Itinerary Nights Inside Oceanview Balcony Suite
7 May 22 Adventure I 15 £1899 £2059 £2469 SOLD OUT
18 Jun 22 Adventure I 15 £1959 £2099 £2489 £3229
2 Jul 22 Adventure I 15 £2179 £2369 £2639 £3199
13 Aug 22 Adventure I 15 £2149 £2289 £2599 £3099
27 Aug 22 Adventure II 15 £1929 £2099 £2469 £3169
10 Sep 22 Adventure II 15 £1879 £2099 £2529 SOLD OUT
24 Sep 22 Adventure II 15 £1899 £2099 £2589 £3249
8 Oct 22 Adventure II 15 £1849 £2079 £2469 SOLD OUT
28 Dec 22 Anthem III 17 £2099 £2199 £2439 £3289
8 Jan 23 Anthem III 17 £2089 £2199 £2449 £3359
19 Jan 23 Anthem III 17 £1899 £1999 £2239 £3069
CHOOSE YOUR ITINERARY:
Itinerary I: Cape Liberty (New York) - Kings Wharf (Bermuda)
- Philipsburg (St. Maarten) - San Juan (Puerto Rico) - Labadee
(Haiti) - Cape Liberty (New York)
Itinerary II: Cape Liberty (New York) - Boston - Portland, Maine
- Bar Harbor, Maine - Saint John, New Brunswick - Halifax, Nova
Scotia - Cape Liberty (New York)
Itinerary III: Cape Liberty (New York) - San Juan (Puerto Rico) -
Philipsburg (St. Maarten) - St. Johns (Antigua) - Castries (St. Lucia)
- Basseterre (St. Kitts) - Cape Liberty (New York)
ICELAND & NEW YORK ADVENTURE
Adventure of the Seas® & Anthem of the Seas® • 15-17 Nights • May 2022-January 2023 • Prices from £1849pp