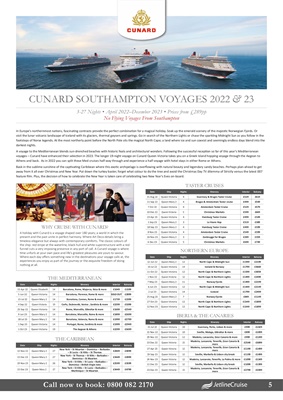 Call now to book: 0800 082 2170 5
In Europe's northernmost nations, fascinating contrasts provide the perfect combination for a magical holiday. Soak up the emerald scenery of the majestic Norwegian Fjords. Or
visit the lunar volcanic landscape of Iceland with its glaciers, thermal geysers and springs. Go in search of the Northern Lights or chase the sparkling Midnight Sun as you follow in the
footsteps of Norse legends. At the most northerly point before the North Pole sits the magical North Cape; a land where ice and sun coexist and seemingly endless days blend into the
darkest nights.
A voyage to the Mediterranean blends sun-drenched beaches with historic feats and architectural wonders. Following the successful reception so far of this year's Mediterranean
voyages - Cunard have enhanced their selection in 2023. The longer 19-night voyage on Cunard Queen Victoria takes you on a Greek Island hopping voyage through the Aegean to
Athens and back. As in 2022 you can split these Med cruises half-way through and experience a half voyage with hotel stays in either Rome or Athens.
Bask in the sublime sunshine of the captivating Caribbean where this exotic archipelago is overflowing with natural beauty and legendary sandy beaches. Perhaps plan-ahead to get
away from it all over Christmas and New Year. Put down the turkey baster, forget what colour to do the tree and avoid the Christmas Day TV dilemma of Strictly versus the latest 007
feature film. Plus, the decision of how to celebrate the New Year is taken care of celebrating two New Year's Eves on-board.
CUNARD SOUTHAMPTON VOYAGES 2022 & 23
3-27 Nights • April 2022-December 2023 • Prices from £289pp
No Flying Voyages From Southampton
WHY CRUISE WITH CUNARD?
A holiday with Cunard is a voyage shaped over 180 years; a world in which the
present and the past unite in perfect harmony. Where Art Deco details bring a
timeless elegance but always with contemporary comforts. The classic colours of
the ship: red stripe at the waterline, black hull and white superstructure with a red
funnel cuts a very imposing presence in any port of call. A Cunard voyage is where
time unfurls at your own pace and life's greatest pleasures are yours to savour.
Where each day offers something new in the destinations your voyage calls at, the
experiences you enjoy as part of the journey or the exquisite freedom of doing
nothing at all.
Date Ship Nights Itinerary Interior Balcony
31 Aug 22 Queen Victoria 4 Guernsey & Bruges Taster Cruise £529 £619
11 Sep 22 Queen Mary 2 4 Bruges & Amsterdam Taster cruise £499 £549
7 Oct 22 Queen Victoria 4 Amsterdam Taster Cruise £529 £579
10 Dec 22 Queen Victoria 5 Christmas Markets £599 £649
23 Apr 23 Queen Victoria 4 Hamburg Taster Cruise £499 £549
1 Sep 23 Queen Mary 2 3 Le Havre Hop £319 £389
18 Sep 23 Queen Mary 2 4 Hamburg Taster Cruise £499 £599
8 Nov 23 Queen Victoria 4 Amsterdam Taster Cruise £549 £599
16 Nov 23 Queen Mary 2 3 Zeebrugge for Bruges £289 £359
6 Dec 23 Queen Victoria 5 Christmas Markets £699 £749
TASTER CRUISES
Date Ship Nights Itinerary Interior Balcony
12 Jun 22 Queen Mary 2 12 North Cape & Midnight Sun £1599 £2199
10 Jul 22 Queen Victoria 14 Iceland & Norway £1799 £3669
11 Oct 22 Queen Victoria 12 North Cape & Northern Lights £1599 £3059
1 Nov 22 Queen Victoria 12 North Cape & Northern Lights £1499 £2499
7 May 23 Queen Mary 2 11 Norway Fjords £1499 £2199
6 Jun 23 Queen Victoria 12 North Cape & Midnight Sun £1449 £2149
2 Jul 23 Queen Victoria 14 Iceland £1799 £2499
25 Aug 23 Queen Mary 2 7 Norway Fjords £849 £1149
27 Oct 23 Queen Victoria 12 North Cape & Northern Lights £1349 £1899
12 Nov 23 Queen Victoria 12 North Cape & Northern Lights £1349 £1899
NORTHERN EUROPE
Date Ship Nights Itinerary Interior Balcony
31 Jul 22 Queen Victoria 10 Guernsey, Porto, Lisbon & more £999 £1429
15 Nov 22 Queen Victoria 10 Seville, Malaga, Gibraltar & more £899 £1099
29 Nov 22 Queen Victoria 12 Madeira, Lanzarote, Gran Canaria & more £999 £1249
23 Dec 22 Queen Victoria 15
Madeira, Lanzarote, Tenerife, Gran Canaria &
more
£2549 £3099
27 Apr 23 Queen Victoria 12
Madeira, Lanzarote, Tenerife, Gran Canaria &
more
£1199 £1499
19 Sep 23 Queen Victoria 12 Seville, Marbella & Lisbon city break £1199 £1499
24 Nov 23 Queen Victoria 12 Madeira, Lanzarote, Tenerife, La Palma & more £1099 £1349
11 Dec 23 Queen Victoria 12 Seville, Marbella & Lisbon city break £1099 £1399
23 Dec 23 Queen Victoria 15
Madeira, Lanzarote, Tenerife, Gran Canaria &
more
£2799 £3399
IBERIA & THE CANARIES
Date Ship Nights Itinerary Interior Balcony
15 Apr 22 Queen Elizabeth 14 Barcelona, Rome, Majorca, Ibiza & more £1049 £1599
5 Jun 22 Queen Victoria 14 Barcelona, Florence, Rome & more SOLD OUT £2899
15 Jul 22 Queen Mary 2 14 Barcelona, Cannes, Rome & more £1739 £2399
4 Sep 22 Queen Victoria 19 Corfu, Dubrovnik, Venice , Sardinia & more £2299 £5399
23 Sep 22 Queen Victoria 14 Rome, Marseille, Gibraltar & more £1699 £2549
9 Jun 23 Queen Mary 2 14 Barcelona, Marseille, Rome & more £1899 £2699
28 Jul 23 Queen Mary 2 14 Barcelona, Valencia, Rome & more £1999 £2799
1 Sep 23 Queen Victoria 14 Portugal, Rome, Sardinia & more £1999 £2949
1 Oct 23 Queen Victoria 19 The Aegean & Athens £2299 £3699
THE MEDITERRANEAN
Date Ship Nights Itinerary Interior Balcony
13 Nov 22 Queen Mary 2 27
New York - St Maarten - Dominica - Barbados
- St Lucia - St Kitts - St Thomas
£2849 £4099
15 Dec 23 Queen Mary 2 27
New York - St Thomas - St Kitts - Barbados -
Dominica - St Maarten
£3449 £4999
19 Nov 23 Queen Mary 2 26
New York - St Kitts - St Lucia - Barbados -
Dominica - British Virgin Isles
£2599 £3599
15 Dec 23 Queen Mary 2 27
New York - St Kitts - St Lucia - Barbados -
Martinique - St Maarten
£3449 £4799
THE CARIBBEAN