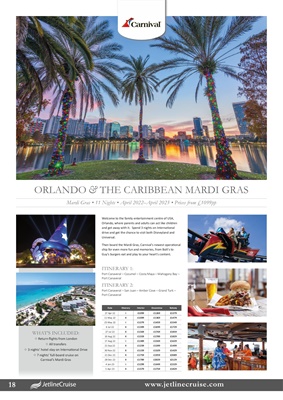 18
Welcome to the family entertainment centre of USA,
Orlando, where parents and adults can act like children
and get away with it. Spend 3 nights on International
drive and get the chance to visit both Disneyland and
Universal.
Then board the Mardi Gras, Carnival's newest operational
ship for even more fun and memories, from Bolt's to
Guy's burgers eat and play to your heart's content.
ORLANDO & THE CARIBBEAN MARDI GRAS
Mardi Gras • 11 Nights • April 2022-April 2023 • Prices from £1099pp
WHAT'S INCLUDED:
✥ Return flights from London
✥ All transfers
✥ 3 nights' hotel stay on International Drive
✥ 7 nights' full-board cruise on
Carnival's Mardi Gras
Date Itinerary Interior Oceanview Balcony
27 Apr 22 I £1099 £1269 £1379
11 May 22 II £1099 £1369 £1479
25 May 22 I £1279 £1459 £1549
6 Jul 22 II £1399 £1699 £1729
27 Jul 22 II £1569 £1769 £1859
10 Aug 22 II £1559 £1789 £1829
17 Aug 22 I £1389 £1569 £1629
21 Sep 22 II £1239 £1399 £1499
30 Nov 22 II £1159 £1329 £1429
21 Dec 22 II £1759 £1959 £2089
28 Dec 22 II £1789 £2029 £2129
4 Jan 23 I £1299 £1449 £1529
5 Apr 23 II £1579 £1759 £1829
ITINERARY 1:
Port Canaveral - Cozumel - Costa Maya - Mahogany Bay -
Port Canaveral
ITINERARY 2:
Port Canaveral - San Juan - Amber Cove - Grand Turk -
Port Canaveral