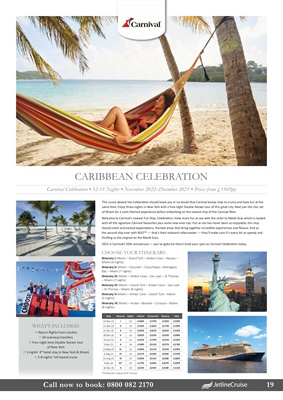 Call now to book: 0800 082 2170 19
WHAT'S INCLUDED:
✥ Return flights from London
✥ All overseas transfers
✥ Free night time Double Decker tour
of New York
✥ 3 nights' 4* hotel stay in New York & Miami
✥ 5-8 nights' full-board cruise
This cruise aboard the Celebration should leave you in no doubt that Carnival knows how to cruise and have fun at the
same time. Enjoy three-nights in New York with a free night Double Decker tour of this great city. Next join the chic set
of Miami for a Latin themed experience before embarking on the newest ship of the Carnival fleet.
Welcome to Carnival's newest Fun Ship, Celebration. Have more fun at sea with the sister to Mardi Gras which is loaded
with all the signature Carnival favourites plus some new ones too. Fun at sea has never been so enjoyable, this ship
should meet and exceed expectations, themed areas that bring together incredible experiences and flavour. And as
the second ship ever with BOLT™ - that's their onboard rollercoaster - they'll make sure it's every bit as speedy and
thrilling as the original on the Mardi Gras.
2022 is Carnival's 50th anniversary - you've gotta be there! Grab your spot on Carnival Celebration today.
CARIBBEAN CELEBRATION
Carnival Celebration • 12-15 Nights • November 2022-December 2023 • Prices from £1569pp
Date Itinerary Nights Interior Oceanview Balcony Suite
15 Nov 22 I 13 £1689 £1799 £1969 £2299
21 Nov 22 II 14 £1569 £1659 £1799 £1999
21 Dec 22 II 14 £2349 £2529 £2699 £3339
28 Dec 22 V 12 £2029 £2169 £2269 £2689
16 Jan 23 II 14 £1659 £1799 £1929 £2359
3 Apr 23 II 14 £1989 £2149 £2279 £2789
14 May 23 IV 15 £1969 £2159 £2339 £2929
6 Aug 23 VI 15 £2179 £2389 £2569 £3199
21 Aug 23 III 14 £1999 £2159 £2289 £2829
4 Dec 23 III* 14 £1799 £1969 £2079 £2599
18 Dec 23 II 14 £2259 £2449 £2589 £3159
*St Maarten instead of St Thomas
CHOOSE YOUR ITINERARY:
Itinerary I: Miami - Grand Turk - Amber Cove - Nassau -
Miami (6 nights)
Itinerary II: Miami - Cozumel - Costa Maya - Mahogany
Bay - Miami (7 nights)
Itinerary III: Miami - Amber Cove - San Juan - St Thomas
- Miami (7 nights)
Itinerary IV: Miami - Grand Turk - Amber Cove - San Juan
- St Thomas - Miami (8 nights)
Itinerary V: Miami - Amber Cove - Grand Turk - Miami
(5 nights)
Itinerary VI: Miami - Aruba - Bonaire - Curacao - Miami
(8 nights)