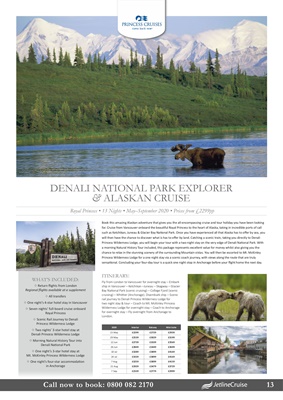 Call now to book: 0800 082 2170 13
DENALI NATIONAL PARK EXPLORER
& ALASKAN CRUISE
Royal Princess • 13 Nights • May-September 2020 • Prices from £2299pp
WHAT'S INCLUDED:
✥ Return flights from London
Regional flights available at a supplement
✥ All transfers
✥ One night's 4-star hotel stay in Vancouver
✥ Seven nights' full-board cruise onboard
Royal Princess
✥ Scenic Rail Journey to Denali
Princess Wilderness Lodge
✥ Two nights' 3-star hotel stay at
Denali Princess Wilderness Lodge
✥ Morning Natural History Tour into
Denali National Park
✥ One night's 3-star hotel stay at
Mt. McKinley Princess Wilderness Lodge
✥ One night's four-star accommodation
in Anchorage
Book this amazing Alaskan adventure that gives you the all-encompassing cruise and tour holiday you have been looking
for. Cruise from Vancouver onboard the beautiful Royal Princess to the heart of Alaska, taking in incredible ports of call
such as Ketchikan, Juneau & Glacier Bay National Park. Once you have experienced all that Alaska has to offer by sea, you
will then have the chance to discover what is has to offer by land. Catching a scenic train, taking you directly to Denali
Princess Wilderness Lodge, you will begin your tour with a two night stay on the very edge of Denali National Park. With
a morning Natural History Tour included, this package represents excellent value for money whilst also giving you the
chance to relax in the stunning scenery of the surrounding Mountain vistas. You will then be escorted to Mt. McKinley
Princess Wilderness Lodge for a one night stay via a scenic coach journey, with views along the route that are truly
sensational. Concluding your four-day tour is a quick one night stop in Anchorage before your flight home the next day.
2020 Interior Balcony Mini-Suite
15 May £2299 £2729 £2939
29 May £2539 £3029 £3199
12 Jun £2739 £3339 £3569
26 Jun £2849 £3449 £3699
10 Jul £3289 £3899 £4169
24 Jul £3339 £3899 £4169
7 Aug £3259 £3899 £4159
21 Aug £2929 £3479 £3729
7 Sep £2339 £2779 £2999
ITINERARY:
Fly from London to Vancouver for overnight stay - Embark
ship in Vancouver - Ketchikan -Juneau - Skagway - Glacier
Bay National Park (scenic cruising) - College Fjord (scenic
cruising) - Whittier (Anchorage). Disembark ship - Scenic
rail journey to Denali Princess Wilderness Lodge for
two night stay & tour - Coach to Mt. McKinley Princess
Wilderness Lodge for overnight stay - Coach to Anchorage
for overnight stay - Fly overnight from Anchorage to
London.